Q. JAXA has engaged in partnerships with other Asian countries, through the Asia-Pacific Regional Space Agency Forum (APRSAF). What sort of results has that brought about?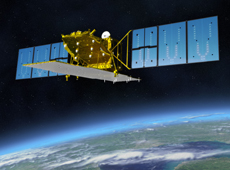 The second Advanced Land Observing Satellite (ALOS), successor to DAICHI, under consideration
The APRSAF is a gathering of space agencies from the Asia-Pacific region that Japan leads and also established. Last December we held the 18th session of the APRSAF in Singapore. In the last six years, we've launched a number of specific projects, so the meetings are more than a simple exchange of information. One of these is Sentinel Asia, an initiative to use satellites to collect information and manage disasters. In Step 1 of Sentinel Asia, we provided information online that primarily consisted of images from DAICHI. In the current Step 2, other countries have been providing satellite observation data. I believe we were able to construct an incredibly fine system.

Other than that, we've also started the SAFE project, which tackles environmental problems using space technology, and the STAR project, whose purpose is to train people from the Asia-Pacific region in the field of satellite development. As the STAR program is shifting towards greater ties with Japanese universities via the UNIFORM (University International Formation Mission) project, we have come to a stage where university students are to actually build small operational satellites with some help from their professors.

We also had a proposal from Australia for a new project relating to climate change, so I think we'll form a new team for that this year. At the 18th APRSAF summit, Japan proposed and received approval to start the Kibo Utilization Project, to encourage other Asian countries to use the Kibo Japanese Experiment Module.

Because of concrete actions such as these, we have stimulated more interest in space utilization among countries in the Asia-Pacific region and added more APRSAF members each year. Accordingly, I think it would be good if, instead of Japan leading APRSAF alone, we could form a leadership council consisting of the major member countries, so that we can further enhance partnerships throughout Asia.