Q. Could you tell us about your organization, the Korea Aerospace Research Institute?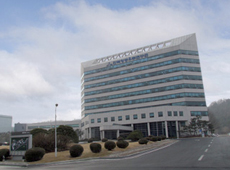 Headquarters of the Korea Aerospace Research Institute (KARI)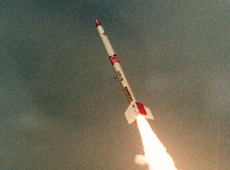 KSR-1 rocket (courtesy: KARI)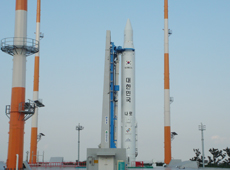 Naro rocket on the launch pad at the Naro Space Center (courtesy: KARI)
KARI was established in 1989, as a government research institute responsible for aerospace research and development. KARI's role is not only to lead R&D in the aerospace field in Korea, but also to promote collaboration with industry and universities. Korea established its national space research institute quite late, compared to other developed countries, but the institute has now grown to employ about 700 people. When you include related companies and researchers, about 1,000 people work together in our space programs.

As for Korea's space budget, it was 360 billion won (US$320 million) in 2010, and 270 billion won (US$240 million) in 2011. Although our budget is lower than that of the world's leading spacefaring countries, it is expected to increase because Korea plans to further encourage the development of domestic rockets and satellites. Q. Tell us about the history of Korean rocket development? So far, Korea has developed the KSR - Korea Sounding Rocket - series and the KSLV - Korea Space Launch Vehicle - series to launch satellites.

KSR-I, a single-stage solid-propellant rocket, was launched in 1993. Its successor, KSR-II, a two-stage solid rocket, was launched in 1997 and 1998. The mission objective of both KSR-I and KSR-II was to observe the ozone layer in the stratosphere. The next one, KSR-III, was a liquid-propellant rocket, and also served as a test vehicle toward the development of Naro, or KSLV-1.

With the objective of launching a satellite into space, the Naro rocket consist of a liquid-fueled first stage and a solid-fueled second stage. It require more advanced technology than a sounding rocket, which simply ascends and descends like a cannonball. Other countries may have thought that it was reckless of us, having just started our space program, to try to build a rocket that could carry a satellite. But I think that sometimes you need to dare to take a risk in order to achieve an ambitious goal.

After much consideration, we decided to employ Russian technology for the rocket's first stage. We built Korea's first launch site, the Naro Space Center, with technological support from France and Russia. It opened in June 2009, and two months later, Naro was launched from the space center, followed by the second launch of Naro in 2010. Unfortunately, both launches were not successful. The third attempt is scheduled for this year. We must find a way to make sure this one succeeds.
Q. What about satellites?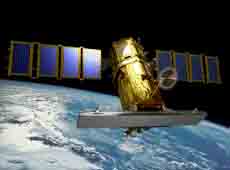 Multi-purpose satellite KOMPSAT-5 (courtesy: KARI)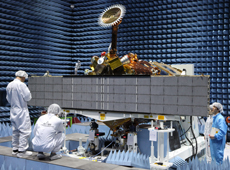 Preparation for an electromagnetic compatibility test for multi-purpose satellite KOMPSAT-5 (courtesy: KARI)
Korea's first satellite was a microsatellite, Uribyol-1 (KITSAT-1), developed by the Korea Advanced Institute of Science and Technology (KAIST). It was launched in 1992, from the European Space Agency's Guiana Space Center.

The objective was to develop satellite technology and give our engineers experience. There were three KITSAT satellites - 1, 2 and 3 - which conducted technology demonstrations such as Earth observation and cosmic ray measurements. Subsequently, KAIST developed the Science and Technology SATellite (STSAT) series. STSAT-3 is scheduled for launch in Russia this year. The satellite mission includes atmospheric observation, environmental monitoring, and galaxy observation.

Also, in collaboration with an overseas satellite manufacturer, KARI developed the Korea multi-purpose satellite series, KOMPSAT. KOMPSAT-1 was launched from the United Sates in 1999, and KOMPSAT-2 from Russia in 2006. KOMPSAT-2 is still continuing Earth observations, having already surpassed its planned lifespan.

This year, KOMPSAT-3 is scheduled for launch from the Tanegashima Space Center in Japan, and KOMPSAT-5 is scheduled for launch in Russia. Both of them will carry an optical camera and KOMPSAT-5 will be additionally equipped with Synthetic Aperture Radar, so it will be able to observe the Earth's surface even during bad weather and at night. Also, we've started the development of KOMPSAT-3A, which will be equipped with an infrared camera.

In the meantime, in 2010, Korea's first geostationary meteorological satellite, Chollian (COMS-1) was launched from the Guiana Space Center. The satellite, which is still in operation, was designed and manufactured in corporation with Astrium, an European Company. The successful launch has made Korea the seventh country to own a geostationary satellite. We are looking at launching two satellites to succeed Chollian; these will observe the weather and the ocean environment.

Finally, the Naro Scientific Satellite, which aims to observe the space environment, awaits launch on the Naro this year. So altogether in 2012, we expect to launch four satellites. We hope all the launches will go well.