Q. What kinds of space robots are there?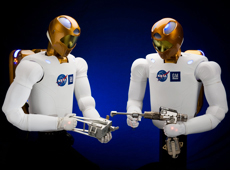 Robonaut 2, a humanoid robot designed to look like the upper half of the human body (Courtesy of NASA)
There are three types of space robots. They differ based on where they are used, their purpose, and so on.

Orbital robots are used on the Space Station and on satellites. Examples are robots that move like cranes, such as the Canadian-made SSRMS robotic arm (known as the Canadarm 2) on the ISS, and the JEMRMS robotic arm on Kibo.

Lunar and planetary exploration robots move around on the surface of a moon or planet. One is Curiosity, the Mars Exploration Rover now exploring Mars. Because it takes time for commands from Earth to reach such a robot, lunar and planetary exploration robots are built to function autonomously.

And then there are manned space activity support and replacement robots, which either help or replace astronauts in their work inside and outside space vehicles. These include REX-J, as well as NASA's Robonaut 2, which was launched in 2011.
Q. Of these, which type is Japan particularly skilled at?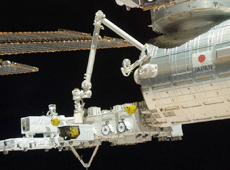 Kibo's robotic arm (Courtesy of NASA)
Japan, along with Canada, leads the world in the realm of robotic arms for space. The robotic arm on Kibo has a main arm and small arm, and astronauts very much appreciate how easy it is to control. Prior to its development, a Manipulator Flight Demonstration was conducted in the Space Shuttle's cargo bay in 1997. Then, in 1998-99, some colleagues and I tested a robotic arm installed on a satellite, Kiku No. 7 (also known as Engineering Test Satellite VII). That project involved two satellites – a chaser satellite called Hikoboshi and a target satellite called Orihime. These experiments were reflected in the design of Kibo's robotic arm.

Orihime/Hikoboshi was also the world's first unmanned-satellite rendezvous conducted both autonomously and remotely from the ground. It was a successful non-impact docking, so it got a lot of attention. And today, we are applying the results of that work to KOUNOTORI, the space station cargo ship now in service. This shows that Japan has a variety of space technologies to be proud of, beyond robotic arms.