Terada: What kind of things are you interested in learning about space?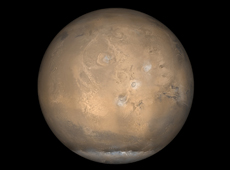 Evidence of life is expected to be found on Mars (courtesy: NASA/JPL/MSSS)
Nakagawa: There is so much I would like to know. Nowadays the latest information is available on the Internet so quickly, so every day is quite exciting. For example, there have been many wonderful discoveries, such as star systems with planets circling around them, a hot Jupiter, and a diamond planet. But what I really can't wait for is the discovery of life. Also, I can't understand dark matter no matter how much I read about it, so I am hoping for a discovery that will explain to me what it really is.
Terada: Speaking of extraterrestrial life, NASA's Mars rover Curiosity is now in operation, and is expected to find something.
Nakagawa: I thought Curiosity would find evidence of some kind of life, such as microorganisms. But it sounds like the chances of that are slim because methane, which is essential for life, was not discovered in the Gale Crater, where Curiosity made its landing. When it landed successfully, I was optimistic that it would make a major discovery, so it's disappointing. If no life is found, Earth will really be a lonely planet. Earth-like planets exist in this vast universe, so there has to be another celestial body with life. I think it's just too far for us to see. And I still haven't given up on Curiosity.
Terada: HAYABUSA 2 is scheduled for launch in 2014 to explore a C-type asteroid. We expect to find organic compounds and water there, so we may be able to make a new discovery about life.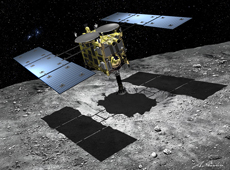 Asteroid explore HAYABUSA-2 (courtesy: Akihiro Ikeshita)
Nakagawa: I'm looking forward to it. For life to be born in the universe, there has to be a habitable zone – an environment with liquid water. The universe is so vast, I expect there are many celestial bodies that can accommodate the birth of life. In reality, Earth-like planets have been found, so it may be unexpectedly easy to find extraterrestrial life. I can't wait to hear that we on Earth are really not alone in the universe.

Besides, if life is found in space, it will push space research further. This is a bit off topic, but technology has made a huge leap in the last 100 years. It was only fifty years ago that a man went to space for the first time. Doesn't that seem unreal? The Edo period lasted 300 years, yet such a great change never happened in that time. On the other hand, in the last 100 years, the computer was invented and the Internet was spread. What's going on? It's a little scary. I almost wonder if the Earth can keep up with such sudden change. But it must be an inevitable experience for our species now.

I always have this notion that I never know when I will die, but on the scale of the universe my lifespan is merely an instant. So while I am alive, I'd like to experience as many surprises as possible, and obtain as much knowledge as possible. I am hoping that, in particular, space-related things will keep progressing fast.