Supporting efficient operations is my primary job. I receive reports from each section manager at the site, and provide them with feedback that helps them make the right decisions. In addition to my role as site manager, I am the deputy launch manager at the Tanegashima Space Center (TNSC). Since the launch manager cannot always be here to supervise the operations personally, I manage the day-to-day operations.
Rockets and satellites are built at different locations and have different assembly schedules. With rockets, after the first and second stages and the solid-fuel rocket are assembled, a complete test is done to make sure that, for instance, there is no loose piping, gas leaks, or computer malfunctions.
The procedure is different for satellites, as manufacturers vary and each satellite has its own specifications. Satellite staff set a schedule by counting back from the launch date. We at the launch center confirm whether the operation meets safety standards, and whether we can accommodate the schedule.
When a problem occurs in a certain section, I work with that section's staff to find a solution. The next step is to make sure that the proposed solution will not have a negative impact on any of the other sections. When we are absolutely certain that the solution will work, the final decision is left to the launch manager. As such, it is my job to coordinate and unite all sections.

For many years, since the beginning of my career, I have been mainly involved in facility maintenance and management, such as taking care of mechanical facilities for rocket assembly and inspection, and supporting satellite management. I have also participated in satellite projects from the planning stage on, and coordinated launch-pad operations and workflow for rocket and satellite preparation at TNSC. This experience has been very useful in my current job. Although I am now in a management position, I think that I also have a good understanding of the work on site.
In fact, I always enjoyed working on site, so, frankly speaking, there is some frustration in the fact that I can no longer "get my hands dirty." I am sometimes tempted to handle a case myself, but if I do so, younger staff will not have a chance to grow, so I usually let others take charge. If things are going well after discussing problems and possible solutions, there is no need for me to say a word.
We are always working in high spirits edged with a little tension, bearing in mind that every launch must be successful. I am very fond of working in the launch complex with such an atmosphere. Providing everyone with a better working environment is always my objective.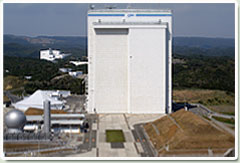 Vehicle Assembly Building (VAB)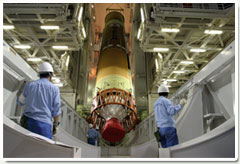 The H-IIA rocket's first stage, erected at VAB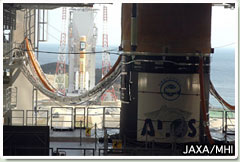 F8 (front) and F9 at Launch Pad 1 (back), seen from VAB