-- You specialize in "detonation." Could you explain that to us? How does it differ from ordinary combustion?
Matsuo: We are most unlikely to experience detonation in everyday life, though it could occur in a gas explosion under particular circumstances. Ordinary flames spread according to what physicists call the "diffusion" phenomenon, but a detonation produces impulse waves, which speed up the propagation, so the biggest difference is time. Once ignited, the surface wave created by detonation spreads at a speed of 2000 metres per second. Very different from combustion propagation by diffusion. It is so fast that it is greatly influenced by the interference of resultant shock waves and combustion.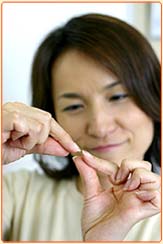 -- The term shock wave reminds me of the "sound barrier." Human beings had a hard time breaking that barrier, as you can see in the film The Right Stuff.
Matsuo: Detonation is also literally the world beyond the wall. The intensity of its energy is thousands of times higher than ordinary combustion, and the speed of its propagation is also extremely high. This means that if we could make good use of it, we might able to produce a simply structured, very powerful engine. But detonation is still beyond our complete control.
-- And you are trying to work it out by computational analysis. You are doing computational experiments on the combustion of compressible fluid. It sounds as unlikely as a royal flush in poker.
Matsuo: We have to handle a bundle of difficult and incompatible things at one time. To simulate a phenomenon that lasts a microsecond in this kind of tiny space, it takes as long as one week. [See photo left.]

-- Could you achieve great results a lot more quickly if you used an ultra-high-speed supercomputer such as the Earth Simulator?
Matsuo: Not quite. I believe that if we try to achieve something just by relying on the power of that kind of computer, the research isn't interesting enough. Any simulation that simply relies on a high-speed computer - in five years time, anyone will be able to do it.