Q. What is the goal of your nanosatellite projects?
No nanosatellites weighing 1 kg, 5 kg or 10 kg have existed before, so our original goal was to see whether such compact satellites could really work in orbit, and if so, how long they would survive. There is also a practical educational aspect in having students experience a satellite project, because they learn so much through the whole process: planning a mission, writing the scenario, designing, building, testing, launching and operating a satellite. Designing and building is essential for education in engineering, but we have to remember that this cannot be done without first ensuring the feasibility of the project. Unfortunately, it takes almost a decade to develop and launch a conventional large satellite, not to mention millions of dollars. In contrast, nanosatellites do not require as much money or time, so that students can operate their hand-made satellites even before graduation - just a few years after joining my laboratory.
Having launched two nanosatellites successfully, we have partly accomplished our primary goal of constructing a mobile object in space. Our next goal is doing something that has more utility. As a first step, we are now distributing free Earth photos, anticipating more potential missions of various types. You might experience failure when you attempt a new thing, but regardless, the experience is a great learning process for students. So I want give them that experience of doing something new.
Q. Are your projects led by the students?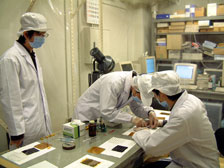 Students building XI-IV(Courtesy of Intelligent Space Systems Laboratory)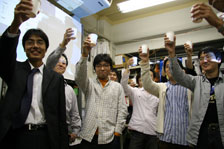 Students celebrating the successful launch of XI-V, October 27, 2005(Courtesy of Intelligent Space Systems Laboratory)






I believe that managing a self-led project is an important part of the learning process, so I try not to give too much advice. About 20 students belong to my laboratory. They work as one team, but are divided into smaller groups, each responsible for one aspect, such as the main CPU, communication, attitude control, and thermal structure. A project manager and a chief engineer are also chosen from among the students, so they learn management skills and teamwork at the same time. For students, they are doing quite well, but when the project was first undertaken in 1999, things didn't go so well initially, because the students sometimes grew emotional and started to quarrel. But once they got accustomed to what they were doing, they gradually began to learn management skills. I think it's important for students to find solutions by themselves, instead of just receiving advice from me. And as a matter of course, the methods and skills for project management, established by the students over time, have been passed on to the next generation.
A project begins with idea generation for a mission. As the definition of a mission takes shape, the next steps are conceptual design, detailed design, production of an engineering model, testing (radiation, heat and vacuums, oscillation, and so on), production of a flight model, launch, and finally operation. I'm really impressed by my students who complete the process in about a year and a half. And of course, I feel fortunate to be able to see their participation and excitement.
The most moving moment is on hearing what we call the First Voice. It's the sound of radio waves transmitted from our satellite, with a beacon sound - like "peekopeepee" - heard while the satellite is first crossing over the Tokyo sky. The moment we recognize it, all the difficulties suddenly seem worthwhile, and everyone starts hugging each other. Some even start sobbing. To be able to taste such a moment is a great experience for the students. They learn so much about technology and friendship, and experience so many emotions through the project, and definitely mature as it progresses. It's so wonderful to watch them grow not only in technological knowledge and experience, but also as people. That's why I experience excitement from their projects, too.
Q. Were you always interested in making nanosatellites?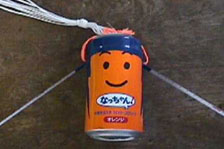 The third CanSat, launched in 1999, captured images during flight using a CCD camera, and transmitted them to Earth(Courtesy of Intelligent Space Systems Laboratory)




Not really. My main focus in my masters and Ph.D. was theoretical research, so I didn't spend much time on fabrication. As an engineer, it was thrilling to find that my design was feasible, but you cannot see the result right away in the field of space engineering, and I soon realized that the universities had limited facilities and budgets. Later, I got involved in space research to pursue intelligent systems, and after finishing school, I conducted research in artificial intelligence at a foreign-affiliated computer firm. Subsequently, I returned to my school and worked on theoretical and simulation-based research.
In 1998, I met a professor from Stanford University at a conference in Hawaii, and he suggested that we build a can-sized satellite together, as a collaborative project between Japanese and American universities. I have been involved in small satellites ever since. I had always thought that satellites had to weigh hundreds of kilograms, or even tonnes, so I was at first quite skeptical about the project. But in 1999, we demonstrated the viability of a small satellite with the CanSat, which was successfully launched in the desert to an altitude of 4 km. And this achievement led us to the CubeSat.