Q. There seems to be good progress, thanks to the Advanced Land Observing Satellite (ALOS) and others, towards using space technology to improve safety and security in the world ? something you have been emphasizing.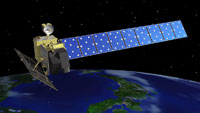 Advanced Land Observing Satellite Daichi
The main objective of new space utilization is to contribute to safety and security in the world, and the first step towards that is ALOS. The main mission of ALOS is mapping, which means that it also does Earth observation, including disaster monitoring. ALOS images have been distributed around the world, as a result of JAXA's signing of the International Charter "Space and Major Disasters" in 2005. These images are already being used in planning measures for disaster areas, which means that the first steps towards our goal have been taken. We'd like to continue to launch various types of satellites to help the world become safer and more secure.
Also, in my opinion, disaster monitoring needs to be conducted not just with satellites but in coordination with ground operations. Related ministries have been holding discussions and hearings on disaster monitoring, to generate ideas for future satellites. And the Space Activities Commission is discussing four satellites that can observe the Earth at all times for future disaster monitoring. So apart from JAXA, the government, local governments, and corporations are initiating these kinds of disaster prevention and reduction activities. Last year, the private sector set up the Disaster Mitigation Strategy (DiMS) Forum with the aim of reducing damage from future disasters. This forum advises the government, related ministries and local governments so they can respond quickly to disasters in Japan as well as other Asian countries. In addition to the space agency, industry, academia and governmental institutions have all started working on disaster issues.
Q. What do you think about international collaboration in 2006?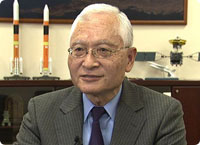 First of all, international collaboration on ALOS made it possible to establish a network called Sentinel Asia, which uses satellite data for disaster management in the Asia-Pacific region. The network enables online sharing of disaster information such as images taken by Earth observation satellites, particularly in the Asian region, where the number of natural disasters is great. This activity is promoted by space agencies that are members of APRSAF (Asia-Pacific Regional Space Agency Forum), and Asia's disaster-prevention institutions. Last year, two project-team conferences were held with the participation of 19 countries, to discuss the utilization of satellite information in detail. International projects have always been encouraged in the area of space science, but I think 2007 will be the year when international collaboration will come to fruition for Japan, especially because Kibo, the Japanese Experiment Module is building for the ISS, is going to be launched this year.
Q. Looking back on last year, what improvements do you think should be made?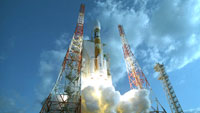 H-IIA No. 11, launched in December 2006
After six successful launches last year, we are running out of satellites to launch. This is a result of the long development period for satellites. When you realize that you are short of satellites, it's already too late to start development for the next series of launches. One of the solutions to this problem will be to shorten the development period.
The second thing is reducing the cost of satellite launches. Launching a rocket costs 10 billion yen, and developing a satellite is tens of billions of yen, so our budget will limit us even if we wish to launch many satellites. The cost has to be reasonable for practical use. Japan has already spent 50 years on space development; I think it's time to use the experience we have accumulated to become more cost-conscious.