Q: Three organizations -- the National Space Development Agency of Japan (NASDA), the National Aerospace Laboratory of Japan (NAL), and the Institute of Space and Astronautical Science (ISAS) -- were merged to form the Japan Aerospace Exploration Agency (JAXA). What do you expect the effects will be of this consolidation and administrative reform?

A: Three organizations with different histories and backgrounds were consolidated to form one independent administrative institution. Though there had been mergers before, this time there is a specific background to the consolidation, namely the current drastic revision of all specially designated public corporations.

Many public-service corporations and specially designated public corporations have been abolished, have become outdated, or have transformed themselves over time. The present revision is an effort to address this situation. Since these corporations are funded by taxpayers, it is quite natural that rationalization and efforts to improve efficiency are called for. I have no objections here.

However, we must remember that this is a consolidation of organizations involved in the areas of rockets, space and aeronautics -- things that people dream about, things that lead our civilization to greater heights, not only in Japan but also in a broader, global sense. There is no doubt that pursuit of efficiency is important, but I believe it is important for JAXA to produce new results that could clearly be seen as the fruits of this consolidation.

To put it simply, 1+1+1 should not be 3, but 4 or 5. JAXA needs to come up with results that the former three organizations could not have produced independently, things that can only be accomplished by a new institution. It could be something to do with a completely new field. Or it could be something the three organizations had each tried before, but could not realize on their own -- something that needs intense collaboration and could only be executed by JAXA. Private organizations are doing the same things -- merging divisions or companies. In such cases, it is essential that the quality of products not deteriorate.

For example, you put together two divisions with ten persons each. With the prospect of improved efficiency, you reduce the personnel to 15 persons. But there would be no point in this organizational reform if the output also decreases by 5 persons' worth, especially in terms of quality.

JAXA leaders should keep their eyes open to ensure that the quality and scope of what they do reflect the effects of the consolidation.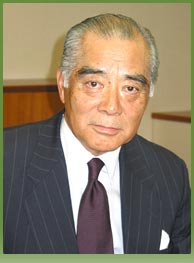 Mr. Kobayashi is Chairman of the Board at Fuji Xerox Co., Ltd., and serves on the boards of Xerox Corporation, Callaway Golf Company, Nippon Telegraph and Telephone Corporation (NTT), American Productivity & Quality Center (APQC) and Sony Corporation. He is also the Pacific Asia Chairman of the Trilateral Commission as well as being Chairman of the Aspen Institute Japan, International University of Japan and a Life-time Trustee of Keizai Doyukai (Japan Association of Corporate Executives).
Mr. Kobayashi passed away on September 5, 2015. We would like to express our sincere condolences.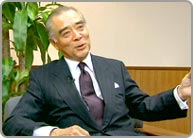 File size : 11MB
Format : MPEG