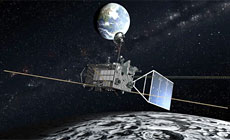 Lunar Explorer KAGUYA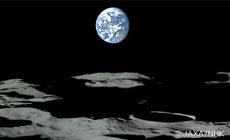 Image of Earthset taken by KAGUYA's onboard high definition camera

Q. How did JAXA do in 2007?
The history of space development passed a milestone last year: the 50th anniversary of Sputnik, the first artificial satellite, launched in 1957. In such a significant year, I think that our efforts to improve reliability in Japan's space program brought us fruitful results. First of all, in space science, new discoveries made by the X-ray astronomy satellite Suzaku (ASTRO-EII), the infrared imaging satellite AKARI (ASTRO-F), and the solar physics satellite HINODE (SOLAR-B), were all welcomed worldwide. Many science magazines published special features covering these achievements.
Also, as the world once again focuses on lunar exploration, with the United States, India and China having announced their own lunar missions, Japan's lunar explorer KAGUYA (SELENE) successfully took the world's first high definition video of the Moon. We were especially convinced of the great public interest in the Moon after we received approximately 410,000 applications from home and abroad for our campaign "Wish Upon the Moon", to send names and messages to the Moon on KAGUYA. KAGUYA's lunar observation has just begun, and we are very much looking forward to the results.
In regards to satellite applications, we extended our capabilities from communications and meteorology to disaster monitoring. The Advanced Land Observing Satellite (ALOS) Daichi, and the Engineering Test Satellite VIII (ETS-VIII) for mobile communications, also known as KIKU No. 8, made great contributions to disaster preparedness.
In the area of aviation, after years of development, we are finally seeing the possibility of production of domestic passenger aircraft. Clean engine technology, which is designed to be environmentally friendly, is in the process of development, and I am looking forward to its practical application in the very near future. Meanwhile, a major achievement in space transportation was the privatization of H-IIA rocket manufacturing. I think that with this, the era of practical use of Japanese launch vehicles has begun, moving from the development phase to full commercial use.
Finally, JAXA Club was launched last year as a new vehicle for public-information activities. JAXA Club is a free website, designed to educate and entertain a wide range of users, from children to adults. Club members can read about the latest news and events in the aerospace field, and also test their space knowledge.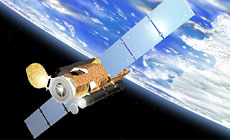 Solar Physics Satellite HINODE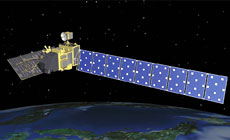 Advanced Land Observing Satellite Daichi
Q. How were JAXA's enterprises received overseas in 2007?

What has drawn the most global attention is our work in space science - in lunar and planetary exploration and astronomical observation. Many countries commended the achievements of three astronomical satellites, the X-ray astronomy satellite Suzaku, the infrared imaging satellite AKARI, and the solar physics satellite HINODE. Also, since astronomical observations often require international cooperation, many overseas researchers expressed appreciation for our promotion of international joint research and collaboration on research papers. For the same reasons, KAGUYA's Moon observation data is already keenly anticipated.
Last spring, JAXA hosted the Kyoto Workshop for Global Space Exploration Strategy. Representatives from 14 space organizations discussed the future of international collaboration on lunar and Mars exploration, and the participants recognized Japan's efforts in fostering an environment of international collaboration. This will continue to be an important element of our space program.
Meanwhile, we received a great response from many Asian countries after images from Daichi made significant contributions to the international collaborative project Sentinel Asia. It has been two years since the project began monitoring natural disasters in the Asia-Pacific region, and currently it has participation from 51 organizations from 20 countries, and eight international organizations. Natural disaster monitoring will remain one of JAXA's top priorities.