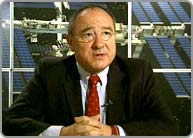 File size : 6MB
Format : MPEG

Q. What do you expect the results of the creation of JAXA will be?

I think the creation of JAXA will lead to more synergies between different types of space-related work in Japan.

The European Space Agency is one of the few agencies in the world with three types of basic space activities. These include developing tools for space (such as rockets and satellites); utilitarian activities related to daily life (such as the European satellite-based positioning system and earth observation); and inspirational activities, or science and exploration.

ESA is responsible for all three of these activities, and now JAXA will have the same responsibilities, which until now were split among three different organizations. I think giving these responsibilities to a single organization is a more efficient way to explore space, because this is the same technology, the same industry. This has been our experience at ESA. But also, putting all the Japanese resources under one roof will make JAXA a more powerful partner in international co-ventures. I hope that ESA will be one of JAXA's most active partners in the future.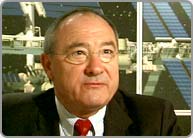 File size : 4MB
Format : MPEG

Q. Why are people interested in pursuing space exploration?

Today space activities are pursued for the benefit of citizens, and citizens are asking for a better quality of life on earth. They want greater security and economic wealth, but they also want to pursue their dreams, to increase their knowledge, and they want younger people to be attracted to the pursuit of science and technology.

I think that space can do all of this: it can produce a higher quality of life, better security, more economic wealth, and also fulfill our citizens' dreams and thirst for knowledge, and attract the young generation. This is the reason space exploration is an integral part of overall space activities. It has always been so, and it will be even more important in the future.
Jean-Jacques Dordain
Director General of the European Space Agency
Jean-Jacques Dordain became Director General of ESA in July 2003. Previously at ESA, he was Director for Strategy and Technical Assessment and Director of Launchers.
He began his career with the French National Aerospace Study and Research Agency (ONERA), conducting research on liquid propellant rocket engines and microgravity experiments. During this period he was selected as a French candidate astronaut for the Spacelab program.
Dr. Dordain was a professor at the National Higher School of Aeronautics and Aerospace from 1973 to 1987. In 1998 he was Executive Secretary of the Evaluation Committee of the Japanese Space Agency (NASDA).
He is a member of the French Academy of Technologies and the Academy of National Aerospace, and Vice President of the International Astronautical Federation.
| | | |
| --- | --- | --- |
| | 1 | 2 | |