Q. Tell us about some of the results of Mars exploration in the past two or three years.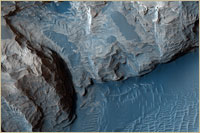 Mars Reconnaissance Orbiter found possible evidence of a liquid that once flowed. Part of crater in Meridiani Planum (Courtesy of NASA/JPL-Caltech/University of Arizona)
The Mars Exploration Rovers Spirit and Opportunity are now five years old. They're both fully operational, but they're kind of "middle aged," so some things don't work as well as they used to. They were designed for 90 days on Mars, and now they're at 1,700. They've lasted five years, which is so much longer than three months. On Spirit, the right front wheel does not rotate, so it drives backward and drags the wheel. On Opportunity the right front wheel does not steer. It can still drive either way, but it likes to drive backwards – it makes turning a little bit easier.
On the RAT, the rock abrasion tool on Spirit that digs those little holes, the cutting devices are worn off,. There are all these little things that don't work as well, but they still function and they can still go to explore new areas and discover new things.
In the past three years, the biggest change in our understanding of Mars in my opinion has come from the Mars Reconnaissance Orbiter, which arrived in Mars orbit in 2006. It takes two kinds of images that are really opening our eyes to Mars. One is, it's looking at the spectra in the visible to near-infrared region –– and it's finding deposits of materials on Mars that seem to suggest an ancient environment that was warm and wet. It's finding clays, weathering products. The sulfate-rich rocks that the rovers found are in these locations in the equatorial region. They tend to be in ancient crust, and they suggest that in the early days of Mars the environment was very different from what it is today. So that's pretty darn interesting. The other instrument is called HiRISE. It's taking images whose pixel size on the ground is 25 centimeters. With HiRISE, we can see the landers on Mars, we can see the rover tracks, we can see the individual rocks that we investigated, and we can see distribution of the rocks. These images allow us to see potential landing sites with much more detail than ever before. So those are very exciting data that are just coming in now.


Q. What is your favorite image of Mars so far?

Prior to the landings of Pathfinder and the two rovers, I spent three years working on the landing sites. So I had predictions of what the surface would be like. And the first image that came back to me – I had to know, was it the way I said it was going to be, or was it different? So, my favorite three images are the first sequence, the first portion of a mosaic or panorama of those three landers after they came down.
This is the first mosaic that was sent back by Pathfinder. (*figure 1) We selected this landing site because we wanted a location that had a lot of rocks. We thought the airbags could withstand the rocks on landing, and we wanted the rover to be able to go to a lot of rocks to see what they were made of. This first mosaic shows the rover, and behind it are all these big rocks. We also said that this site would be a plane composed of materials that were deposited by a catastrophic flood. It turns out they almost certainly were produced by a flood of water that made them stacked up next to each other. So this is my favorite image from Pathfinder. That was the first landing site I selected.
The second site was Spirit. We looked at all the data for the Spirit landing site, and we said it's probably going to look pretty similar in color to the Viking 1 and 2 sites and the Pathfinder site but it will be smoother and flatter, with fewer rocks. Those were our predictions. And this is Spirit, this is the first portion of the panorama. (*figure 2) And it is smooth and flat. There are very few rocks,. and not very many big rocks at all, so I was pretty happy.
And then three weeks later Opportunity came down. We studied for three years what Opportunity was going to be like. We said it was going to look completely unlike any other landing site that we'd been to on Mars. It would not be red. There would be no dust. And there would be no rocks at all. It would be mostly sandy, with low, whitish toned outcroppings. So, this is the first image returned by Opportunity. (*figure 3)


Q. This year there was methane gas discovered on Mars. What is the importance of that?

Methane is a gas made up of hydrogen and carbon, and it is not stable in the Mars atmosphere. If you put methane in the Mars atmosphere it will disassociate – it will become its raw parts. It does so fairly quickly, so if you see methane, it has to have been produced very recently. So if you measure it in the atmosphere, it has to be coming out of the planet.
There are two sources of methane that we know about here on Earth. One is animals. In fact, the largest methane producer on Earth is cows. But in addition to cows, you can create methane through reactions of particular rock types with water. Well, no one thinks there's cow on Mars, okay? But there are single-cell organisms that produce methane as well. And so, it raises the possibility that there are actually live biological organisms, possibly single-cell organisms, down below the surface, where there's water, that are reacting and producing the gas. Or, there's no life at all and there are reactions occurring with special kinds of rocks to produce the methane, and it has to be happening right now.
So, usually they say Mars is still sort of an alive planet because there are these things happening. And we'd love to know which of those two is correct. If it's in fact life, we have an answer. If it's not, well where is that reaction taking place? Is liquid water involved in that reaction? That's also tremendously interesting. Or maybe it's a combination of both. So we'd love to be able to find out the answer to that. It would certainly take additional missions.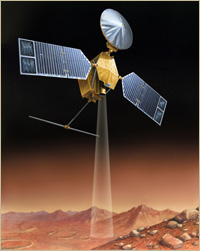 Mars Reconnaissance Orbiter (Courtesy of NASA/JPL-Caltech)
Q. How have U.S. Mars mission evolved or improved since the 1997 Pathfinder mission?

Oh, so dramatically improved. Pathfinder wasn't even about the science. It was just, can you land a small lander and rover inexpensively? Can you even do that? We hadn't done that in 25 years, since Viking. But now, the two rovers that are on the surface have much more sophisticated instruments, and we can address topics we couldn't even dream of addressing with Pathfinder. Opportunity has gone 13 kilometers, Spirit has gone eight kilometers. We've traversed these big parts of Mars, and we've investigated the rock types, and we understand a lot of the ancient history from that. That's just dramatically better than anything we could have hoped for. And I think the Mars Reconnaissance Orbiter is really sort of tying these two together – how the data from the rovers fits in globally – and that's been very exciting to me personally.