Mao Kobayashi
Newscaster
Ms. Kobayashi made her television debut in 2003, as a weathercaster on Fuji TV. In 2005, she graduated from Sophia University with a degree in psychology, and started her acting career, appearing in a number of television dramas and films. Since 2006, she has also been a newscaster for Nippon TV's News Zero. She is involved in ecological causes, supporting a tree planting program through a fashion campaign.
* Mrs Mao Kobayashi passed away on June 22, 2017. We would like to express our sincere condolences.
Q. What was your most memorable experience in your coverage of space news?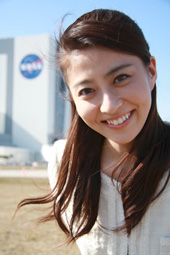 At the Kennedy Space Center
That would be my visit to the Kennedy Space Center in March. I went there to cover the launch of the Space Shuttle on which Astronaut Wakata was scheduled to fly. Unfortunately, the launch was delayed for the fifth time just a few hours before I got there, and I was not able to witness the moment. Yet it was still quite an experience to see the real Space Shuttle and to feel the tension before launch. A few months later, two sections of the Japanese Experiment Module Kibo were installed on the International Space Station. It was very exciting to think that what I had seen at the Kennedy Space Center was now actually in space.
I was very disappointed that I couldn't witness the launch, but the repeated launch delays taught me how difficult the journey to space really is. I was also very impressed that, no matter how many times the launch was delayed, all of the staff members remained calm and continued to work on the next procedure. This whole experience was very valuable for me because I became more aware of the significance of humans going to space, and of the benefits, dreams and hopes we take from the endeavor.

Q. You met with astronauts for the first time. What kind of impressions did they give you?

I thought they were all very cheerful, generous and flexible people. They must have been asked the same questions so many times, but they were always enthusiastic in our interviews. From their attitude, I strongly sensed their passion to share their dream with us on Earth, and to encourage us to remember to have dreams and hopes as well.




Q. Did your awareness or impressions of space activities change as a result of your coverage?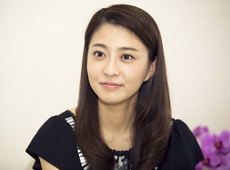 To be honest, I was not particularly interested in space before the project. My interest grew as I learned about space, interviewed astronauts, and visited the Kennedy Space Center. And I soon started noticing that many objects that surround us were actually first developed for use in space. Things that are essential for life in space are often catalysts for the invention and production of things that make our life on Earth richer. Today there is too much negative news, but I think that news about space is always positive - it feeds us with hope. We on Earth are usually separated by national boundaries, but on the ISS, people of different races and nationalities are working together to fulfill a mission. Although this is not easy to achieve on Earth, it is possible for people from different cultures and backgrounds to become one in space.

Q. How do you think space should be utilized?

I think there is great potential in the use of space. For instance, new drugs or materials can be developed in space-based experiments. I hope the use of space will make our lives easier. And I hope that space will be used for our spiritual benefit as much as for material wealth. I sincerely believe the world can be united through space. Despite the fact that we've known for a long time that countries need to cooperate in addressing global environmental issues, this doesn't happen easily in real life. I am hoping that space activity will awaken in everyone the desire to unify the world, and that space will be used to make this happen. To maintain such a symbolic role for space, we in the media need to give it as much attention as possible. From that point of view, I think it's very important to report on the activities of astronauts and people who support them, and to make sure that their activities are known to the public.




Q. What do you like about space?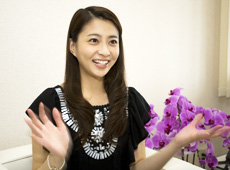 I am fascinated by the scale of the universe. When I think about it, the Earth feels small, and my presence on the planet feels much smaller still. But this makes me love where I am all the more. Thinking about the universe gives me a stronger sense of my being.
An astronaut who has flown in space said, "Space is a world of pitch darkness, and its harshness allows no life. However, when you look at the Earth, there is water and light; it is glittering. The night view of the Japanese archipelago is like looking at scattered jewels. It is so beautiful." His words convinced me of the beauty of the Earth. In the pitch-black world, I was given life, as were many others, all living well. The universe is something that reminds me of this preciousness. That is the greatest attraction of space to me.
Q. When you were a child, what kind of images or dreams did you have about space?

I loved the planetarium, and my parents used to take me there often. Looking up at the starry sky of the planetarium, I remember that I always felt a floating sensation. Once in a while, I still feel like going to the planetarium. With my childhood experience there, I seem to have learned that, when I look up to the sky, my troubles seem trivial, and I can feel positive. I was also able to easily imagine the presence of the immense universe beyond the sky, even without knowing much about it.