Q. Could you tell us about JAXA's international cooperation?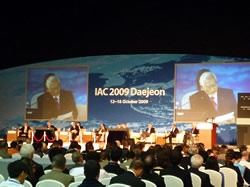 President Tachikawa speaking at the Heads of Agency Plenary Session at the International Astronautical Congress
With the desire to contribute to the world through successful outcomes in Japanese space development, we facilitate international cooperation, especially with Asian countries. As an advanced country in space technology, we would like to be of more help to people in Asia, and as part of this, we have led the Asia-Pacific Regional Space Agency Forum (APRSAF). Under the APRSAF umbrella, a disaster monitoring system, Sentinel Asia, was established four years ago. Asia experiences many natural disasters, so the purpose of Sentinel Asia is to monitor the status of disasters using satellites, to facilitate fast and efficient response. The Japanese Advanced Land Observing Satellite DAICHI (ALOS) was the only participating satellite at first, but later, Earth observation satellites from India, Thailand and Korea joined as well. The more disaster monitoring satellites we have, the more quickly we can provide accurate data. This satellite data is released on the Internet, so people in the afflicted countries can have easier access to information.
Last year we also launched the STAR (Satellite Technology for the Asia-Pacific Region) program, which aims to develop human resources in the domain of space development. The program has brought scientists and engineers from Asian countries - such as Indonesia, Thailand, Vietnam, India and Korea - to JAXA's Sagamihara Campus, where they are developing small satellites. If each Asian country becomes capable of building satellites that can be used for Earth monitoring, I expect this will be a great contribution to disaster monitoring.
In addition, we started the SAFE project to encourage cooperation among Asian countries on global environmental issues. SAFE stands for Satellite Application For Environment, and its purpose is to apply a satellite system to the environmental issues each country faces. Last year, we built a trial forest-resources management system using Vietnamese satellite data. This year, we hope to continue to expand the range of satellites applications. It is important to advance environmental management throughout the Asian region, not only by launching new satellites but also through the efficient use of existing ones.
These are examples of our international-cooperation efforts in the Asian region. But of course natural disasters occur in the rest of the world too, and therefore the demand for satellite applications is increasing around the globe. Last year JAXA signed a collaboration agreement for satellite applications with Germany and Italy, so I expect that our international cooperation in 2010 will be even stronger. I think space activity is a domain that involves the most sophisticated international cooperation. JAXA will continue to be proactive in this field.