Q. How did the idea come about for the LCROSS mission?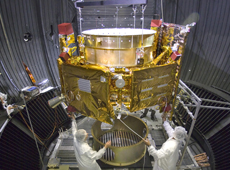 LCROSS thermal vacuum test (Courtesy of NASA, Northrop Grumman)
The idea for the LCROSS mission came about when NASA moved the Lunar Reconnaissance Orbiter (LRO) to a larger launch vehicle. The larger launch vehicle allowed an extra thousand kilograms of mass to go to the Moon, and rather than let this thousand kilograms go to waste, NASA put out a call for proposals for what to do with this extra capacity. LCROSS was one of 19 proposals submitted, and one of the four that were ultimately selected for final evaluation. After that final evaluation, LCROSS was selected for flight.
The idea came from a number of people, and it wasn't really unique. Impacts have been used to study objects in the past, such as the comet Tempel 1 in the Deep Impact mission. During the Apollo era, a number of booster rockets were crashed into the moon to do seismic experiments. There were seismometers set up, and they used the large Saturn IV booster (third stage of the Saturn V rocket) to create little moonquakes so they could make measurements of the Moon. So the idea wasn't particularly novel.
What we did do, though, was we used the extra capacity of the launch vehicle to send up what we call a shepherding spacecraft. Rather than just impact the Moon and rely on earth-based or LRO observations, we impacted the Moon and then watched it from a very unique vantage point straight overhead, with a suite of instruments. That's what, I think, set the LCROSS mission apart from a number of other impact missions that were also proposed for this opportunity.
Q. How did you choose a location on the Moon?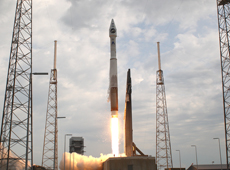 LCROSS was launched with the Lunar Reconnaissance Orbiter aboard an Atlas V rocket in June 2009 (Courtesy of NASA)
That was an ongoing process, because we were a secondary mission, a secondary payload on the Lunar Reconnaissance Orbiter, so we had to go when they were ready to go.
We had some specific requirements with regards to where and when we needed to impact. The most important requirement was the ability of ejecta, or debris, from our impact to reach sunlight, so that really prescribed the depth of the crater and the season that we impacted. If we impacted on the night side of the Moon, deep in shadows, of course, it would be much harder for the ejecta to reach sunlight. So that really dictated where we could impact, but, of course, the arrival time depended on our launch time, which was controlled by the LRO project. We had to evaluate targets on an ongoing basis, as launch dates moved and the seasons progressed on the Moon. It was an ongoing process of optimizing our impact location against the launch time and illumination conditions on the Moon. The ultimate launch date was what determined what Quadrant of the moon we could hit. With a June launch, the Cabeus region in the South Pole was our prime target area. That was the sunny side of the Moon, where ejecta would have to travel the least distance to make it to sunlight.
In the Cabeus region, there were three primary targets we were considering, because of their depth, illumination and association with hydrogen measurements made by Lunar Prospector. Those craters were Cabeus proper, Cabeus A and Cabeus B. We originally had picked Cabeus A because of its superb view from Earth. It was at the lowest latitude, where the impact would have been, potentially, directly in view of Earth. But after LRO went into orbit, our measurements increasingly placed doubt on exactly where in Cabeus A we would impact. The LRO observations supported Cabeus proper as a place of very enhanced hydrogen concentrations, so ultimately, just two weeks before impact, we moved our target to Cabeus. And we did our final burn maneuver to Cabeus about two weeks prior to impact, which is very, very late. We were really lucky that we were able to go that late, actually.