Q. Positioning satellites are used in various scenarios, including science and general daily life. Have you ever thought about how GPS is helpful, good, and convenient in your personal life?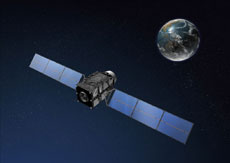 Quasi-Zenith Satellite-1 "MICHIBIKI"
I have on many occasions. I moved to a new city in Europe, and I can go shopping and see the famous places in the town both of which I am not familiar with because a GPS locator-equipped cell phone helps me. I also feel safe because GPS can lead me to my hotel easily, even if I get lost in an unfamiliar country. It has become so easy for us to travel and work abroad because we can use GPS available in a very small cell phone.
In addition, my hobby is astronomical observation, and it is important to know the highly accurate time for an observation with a telescope. When I succeed in taking a picture of an astronomical phenomenon, it is essential to confirm when it occurred. If the time is not completely accurate, it does not have scientific value. I always use the time from GPS to make sure it is accurate.
Q. What you would like us to improve to make the use of GPS more convenient?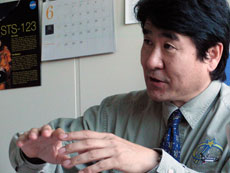 Currently, GPS has a margin of error of a few meters, but I would like to see the margin of error become a few centimeters. Then it would be possible to develop systems which can prevent collisions between cars and develop other automated systems in various fields. I believe that we will be able to use transportation such as airplanes, railroads, and ships more efficiently and effectively. As a result, I think it will lead to energy savings. There is a possibility to cause a new industrial revolution in the near future like the development of computers and the internet impacted us recently.
Q. Do you have any ideas or requests for applications using accurate information of position and time?
If the positioning satellite with an accuracy of millimeters is put to practical use, a teleoperated robot may be able to perform a surgical operation using scalpels at any place on the Earth. So we have many possibilities like this. I would like to see how good GNSS positioning accuracy can become. Is it going to be a centimeter or a millimeter? I am very excited about it. If we have very accurate positioning on the order of a millimeter, we may be able to do something which nobody has dreamed of yet.
Q. From the viewpoint of international cooperation and partnership, what do you think about the significance and role of QZSS which Japan is planning to launch?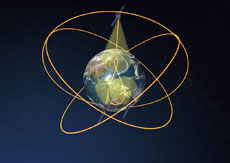 Image drawing of the Quasi-Zenith Satellite System with three QZSes.
The Japanese QZSS is very unique. It is wonderful that at least one satellite will always be positioned over Japan near the zenith so that we will be able to receive a signal from the satellite even in an urban canyon and that more accurate positioning will be possible. Also, the fact that Japanese technology was capable of developing such a unique system is great. All positioning satellite systems, including QZSS, can provide benefits to people all over the world. QZSS can especially provide benefits to people in Asian countries, so I hope that QZSS will be available not only for Japan but also for Asian countries.
I personally feel that this system will be very beneficial in mountain regions. For example, there are many villages surrounded by mountains in Asia. Such areas have problems with heavy rainfall causing mudslides and flooding, and are notorious for bad traffic in the case of an emergency. So I expect that the use of a positioning satellite would improve their lives in those areas. I hope that people in mountain regions like the Andes or the Himalayas can utilize QZSS in the future.
Q. Could you give your message to the launch of QZS-1?
I hope the launch will be successful. The effectiveness of the new system will be verified quickly, and many people will be able to use this system. You will just be at the starting line by putting the satellite into orbit. You also have to improve the various infrastructures. Keep up the good work.