Q. What is the current development status of the Epsilon Launch Vehicle?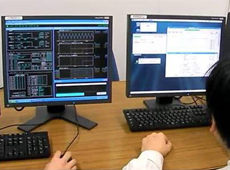 Demonstration using two desktop computers. The left screen monitors the state of the rocket, and the right screen carries out checks.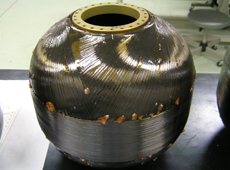 Prototype of a motor case made with a manufacturing method that does not require an autoclave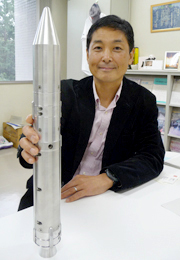 Professor Morita with a miniature of the Epsilon launch vehicle
We are now in the final stage of design, moving towards the launch of the first Epsilon rocket in 2013. We have made models of the hardware components, and are testing them one by one. The rocket launch control and autonomous-check systems, which use two desktop computers, have been verified with the actual hardware. We are using a desktop at the moment, but eventually we'd like to be able to use a laptop.
As for the motor case, which no longer requires an autoclave for manufacturing, we have built a small carbon fiber prototype and are testing it now. We have been able to confirm that it is possible to make a lighter and stronger motor case, so we plan to make a full-size model to test in the next two years. Q. What do you think is the key development agenda? Because the autonomous-check and mobile launch control system are new elements, they are probably people's biggest concerns, and we understand that with these we can least afford to fail. Needless to say, using artificial intelligence in the rocket is something that is only possible based on achievements made to this point. However, these achievements are in people's heads and not written in manuals. People have put what they have in their heads on the line for real-life performance. But now, it is important to sort it out systematically and compile a database. That is, I think that a key to this development is to sort out and systematize the foundation of what we have achieved to date, and make the knowledge usable.
It may be an overstatement to say that we are over the hump, but we have been able to verify the possibility of mobile launch control using a prototype model. So I think that we are coming close to the stage where we can build a reliable launch vehicle and finish production in time for launch in 2013. Q. What has been the reaction of people around you towards the Epsilon launch vehicle? At first, when we talked about the Epsilon launch vehicle at conferences and so on, the majority of responses were that such a mobile launch control system would be impossible. However, last year, the project was covered in the U.S. magazine Aviation Week & Space Technology. And since the publication of photos of the test we ran using two desktop computers to control the launch process, I have the impression that those who had hadn't taken our project seriously are changing their mind.
However, the confidence of my colleagues who are working on the project is much more important to me than other people's worrying. I have a strong sense that the bond between us has grown tighter since development started three years ago. Back then, some of us were still feeling uncertain about whether one or two computers would do, but today everyone is working with faith and confidence. I think all the developers have a very strong determination to succeed with the Epsilon launch vehicle. If our mobile launch control system works, it will be the most advanced technology in the field by far. So in that sense I think this is a big opportunity.