Q. HAYABUSA's achievements really captured public attention. What is your view of this phenomenon? And what kind of acclaim has the success of HAYABUSA brought to JAXA?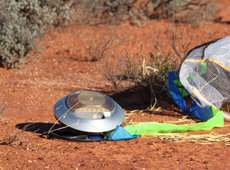 HAYABUSA sample capsule after its return to Earth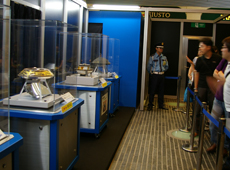 JAXA's successful exhibition on the HAYABUSA expedition, featuring the sample return capsule
The whole nation was moved, and got very enthusiastic about JAXA's achievement. It was a first in the history of the Japanese space program. According to a survey from around 2005, less than 10 percent of respondents were able to name the organization responsible for Japanese space development. So I appreciate that HAYABUSA's return to Earth has made JAXA more widely known.
I was watching HAYABUSA's reentry in the control room at JAXA, and frankly speaking, I was thinking again that there was a 50/50 chance of success. I had experienced the feeling of "it's all over" so many times before: once a satellite or unmanned spacecraft has trouble in space, the operation becomes very difficult to continue, as the spacecraft is out of our reach. That's why I admire HAYABUSA's perseverance all the more.
It is really remarkable that the sample return capsule was retrieved, and even more so that it actually contained samples brought back from the asteroid Itokawa. By bringing back material from a body beyond the Moon, JAXA has achieved a first in human history. The particles brought back from Itokawa are around 10 micrometers in diameter. You might think this is very small, but for experts in nano-sized materials, it is 100 to 1,000 times bigger than what they usually deal with in their research. The sample analysis by Japanese and international scientists will help us understand the origins of the solar system, and inevitably attract attention both domestically and internationally. I expect that the results of the analysis will start coming out by this spring. If there is a new discovery, Japan will be leading the world in the field of science, too.
Furthermore, the success of the HAYABUSA sample return capsule has proven that Japan has obtained re-entry technology. I think this will be a key element of the HTV with Return Vehicle (HTV-R), which is currently in the planning stage. HTV-R is an upgraded version of the current cargo transport vehicle to the ISS, KOUNOTORI (HTV). It is an unmanned spacecraft that will enable retrieval of materials from the ISS.