Q. What is your attitude towards environmental issues?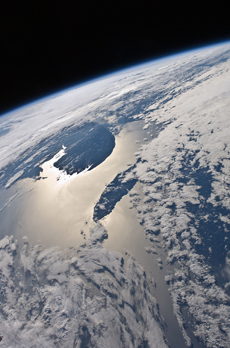 (courtesy: NASA)
Although it is often pointed out that the Earth's environment is in trouble, I don't see it that way. The Earth's environment has been changing continuously through its 4.6-billion-year history, and living organisms have coped with those changes to survive. However, in the last two hundred years, since the Industrial Revolution, climate change on Earth has accelerated, making it more difficult for human society to adapt. Generally, the efforts to slow down the changes in the Earth's environment are called the "environmental movement," but I think that adapting to those changes is an environmental movement, too. I would like to help people become adaptable to the changes in the environment.
In 1900, the world's population was 1.5 billion. By 1950, it had doubled to 3 billion, and in 2000 it hit 6 billion. Now it's reportedly over 6.8 billion. No matter how dramatically the world's population increases, the size of the Earth will not change, so it's obvious that the Earth will not be able to keep going this way. I am worried that the Japanese may be the first to die out, being the last to adapt to changes in the environment.
The Japanese have become so accustomed to a life of abundance that their love of life has severely weakened. Japan has long been in an alarming state where 30,000 people commit suicide and 90,000 people go missing every year. In comparison, it is reported that no one in Africa commits suicide, although many people are dying of hunger or disease. In our wealthy country, why are so many people killing themselves? Why are there a million people who've become hermits? I recognize the need to develop a zest for life in the Japanese, in order to help them become more adaptable to the changing environment. I am now preparing to launch an organization to realize this goal. Q. What is your target age range? How are you going to teach them to have a zest for life? Eventually we would like to include all the generations who are called "the youth" of Japan, but for now we will target elementary-school students only. In the old days, they used to always play outside. On my way home from elementary school, I would leave my schoolbag aside and play with my friends. We sometimes dared to play dangerously, like crossing the railroad bridge with the thrill that if we fell off we could die. Thinking back on those days, those kinds of thrills may have stimulated and increased our zest for life.
In contrast, today's children in Japan are told only what not to do, and are a bit like livestock who are automatically fed and washed and live under a stable roof. In such conditions, where they can live without doing anything for themselves, it is natural for children to lose their zest for life. This is not their fault, but a consequence of a convenient, comfortable, safe and prosperous society. I think that this is a dreadful situation. But of course I cannot encourage children to cross dangerous railroad bridges. So instead I'd like to create different opportunities to stimulate their brains.
You can do this in many ways - through sport, for example. You are stimulated when you have achieved a challenging goal, or when you get upset because you didn't perform well but are motivated to work harder. These stimulations are key to cultivating a zest for life. But if sport is the only means, the opportunity will be limited only to children who play sports, so we are also planning other outdoor activities, such as camping. We will build programs that allow children to overcome hardships together and learn to cope with new situations as much as possible on their own.
I have been an observer at an interactive school where children spent a week taking care of horses. In this program, they spread straw to sleep on the second floor of a stable, tended to the horses, and finally learned horseback riding and crossed a mountain to go camping. I was told that the eyes of the participants completely change by the end of the course. When I heard about this, I was convinced that human beings grow through experience. I wouldn't say that participation in one outdoor activity will instantly give you zest for life or drastically change something in you. But I do hope that it will give children a chance to awaken their zest for life, even a little.