Q. You prefer being called a private astronaut, not a space tourist. Can you explain why?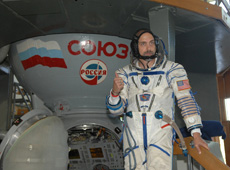 In front of the simulator of the Soyuz spacecraft (Courtesy of Richard Garriott)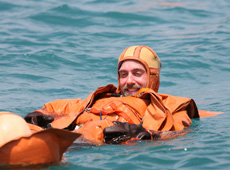 Black Sea survival training (Courtesy of Richard Garriott)
Some day in the future, there will be cruise ships that take passengers into space just like there are cruise ships that take passengers on the ocean. But today, every member of every spacecraft, including myself, is a complete member of the crew who is fully trained to operate all of the equipment and has duties to perform that allow that vehicle to travel in space. It's just like on a military ship, where all of the members of that ship call themselves sailors. Whether they are the commander, or the engine operator, or the cook, all of them are still sailors. Similarly, every member of every spacecraft should be called an astronaut.
On the Soyuz, I was a fully trained astronaut. I passed all of the same tests and all of the same certifications that every other astronaut and every other cosmonaut had to pass. The exact same tests. And during flight operations, I also had to perform. The Soyuz has three seats, and I was required to perform duties in the third seat, just like every astronaut and cosmonaut before me. So I am almost offended when people argue that I am not an astronaut, because by any real measure I have accomplished all of the same goals and, I also believe, accomplished as much scientific activity and commercial activity in space as any other astronaut.
Q. Tell us about the training you did to prepare for this flight.
The Soyuz that I had boarded was launched in October, 2008. I began my preparations about two years prior to my flight. It began with medical preparations. I had to go through not only significant medical tests, but in my case, I also had to undergo surgery to remove a genetic anomaly within my body. As it turns out, I had something called a hemangioma – one lobe of my liver was fed by an artery that had no vein to drain it. I found out about that during my medical tests for my flight. And so I had an over-pressured lobe of my liver, which is quite common actually. However, in the case of space flight, if there was an emergency that included depressurization of the spacecraft, it might represent an easier chance to bleed, which you could not fix while you were in space, and so it would be fatal. So I had to remove one lobe of my liver as part of my preparation.
And then in January of 2008, I began to spend most of my time in Star City, Russia, where I underwent the same training that all astronauts and cosmonauts receive. So for example, I was trained in Soyuz operations: everything from how to operate the computers, how to operate the communication systems, how to operate the life support systems. And then how to perform my specific duties according to the flight data files of launch and reentry and orbital maneuvers. Similarly, I then had to learn the International Space Station operations. Again, operating the computers, operating life support, operating any emergency procedures, for example in case of fire or toxic atmosphere. Additionally, I had to learn all of the necessary requirements for all the experiments that I was going to perform. So that year of training was very intensive. I also had to learn the Russian language, so I now still know a little bit of Russian – enough to perform my duties and communicate with mission control.
And then at the very end of my training, myself and my crewmates had to pass oral examinations over two days that were required before we were allowed to board the Soyuz and to live aboard the International Space Station.
Q. It sounds complicated. Did you enjoy the training?
I enjoyed the training very much. I would actually say that the training was not particularly difficult, but there were many subjects covered. For example to understand the life support systems – keeping the oxygen and carbon dioxide in balance – is very similar to scuba diving. And so if you have a scuba diving license, you will find the course work in life support to be very familiar. Similarly, if you are a ham radio operator, which I am, you will find that the radio and communication operations on board the Soyuz and Space Station are also very familiar. If you are a person who enjoyed physics in high school, the orbital mechanics of a spacecraft are very basic Newtonian physics that you will find very familiar. And so the astronaut training I would say is very thorough and covers many subjects, but is not particularly difficult on any one subject.