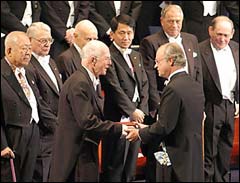 Nobel Prize Reception (Dr. Giacconi is second from the left)
(C) The Nobel Foundation
Photo: Hans Mehlin, Nobel e-Museum
---
Dr. Giacconi's diploma, presented by the Nobel Foundation, has an artistic image of an X-ray emission from gasses as they are pulled into a black hole. Here is a link to an introduction to the work of Nils G.Stenqvist, who also painted the diplomas for Dr. Masatoshi Koshiba, and Dr. Koichi Tanaka.

http://www.nobel.se/physics
/laureates/2002/giacconi-diploma.html

Q1. What is your attraction to X-ray astronomy?


We have studied astronomy, and in particular X-ray astronomy, for many years, and have proven that explosive phenomena are related to the birth of celestial bodies.

Massive explosions, such as the Big Bang, cause the birth and death of stars, and create large-scale structures like galaxies and galactic clusters. When such an immense explosive phenomenon occurs, it heats gases to extremely high temperatures and energizes particles, which results in X-ray emissions.

Though you might think that nothing exists in the space between galaxies, it is actually filled with rarefied, super-heated gases. Though these gases are very thin, they contain more material than an entire galaxy. But they can only be detected by their X-ray glow. We were the first ones to discover this.

Also, since a lot of X-rays are released when a star goes supernova, X-ray observations are a very efficient way to find and study high energy phenomena in space. These high-energy phenomena are very important stages in the birth or death of stars, galaxies and galaxy clusters, and also in their evolution. That is the fascination of X-ray astronomy.