Q. Why are you interested in supernova explosions?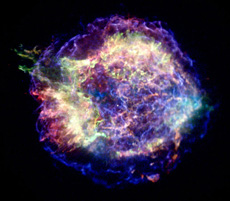 X-ray image of the supernova remnant Cassiopeia A, 330 years after its supernova explosion. X-rays are shown from high-energy to low-energy as blue, green and red. (courtesy: NASA/CXC/UMass Amherst/M.D.Stage et al.)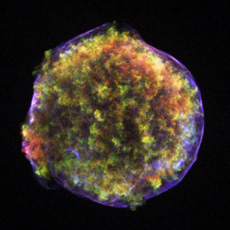 X-ray image of Tycho's supernova remnant. The purple area seen on the outer rim is a shockwave where high-energy non-thermal particles are accelerated. (courtesy: NASA/CXC/Rutgers/J. Warren & J. Hughes et al.)
I have always had an interest in the fact that the particles created from a supernova explosion are accelerated to a very high energy. I'm attracted by high-energy phenomena.
Everything on Earth has a temperature that we can measure and define, but in supernova remnants, we cannot measure the temperature of the high-energy particles, which are called "nonthermal" particles.
Such phenomena, which are never seen on Earth, make supernova explosions and their remnants very interesting. These nonthermal phenomena are observed universally all over space, and there is a possibility of something very important being hidden there. I find this mystery very compelling.
When you look at the photos of supernova remnants, they are very beautiful. That's another reason why I am so interested in supernova explosions.
Q. What are supernova explosions and supernova remnants?
A supernova explosion is a phenomenon in which a star reaches the end of its life and explodes. For example, think about a "heavy" star, which means it has more than ten times the mass of the Sun. First, a star is created when clouds of gas in space are attracted and contracted by gravity. In the center of a star, nuclear fusion (in which hydrogen gas becomes helium, and so on to larger and larger atoms) will occur and generate outward pressure. Since that pressure and the gravity of the star are well balanced, the star can maintain its shape. The energy of the atomic fusion reaction creates the light that makes the star shine.
Nuclear fusion will continue until iron forms in the core of a star. Iron is a stable atomic nucleus, so no further nuclear fusion will occur. About a million years after its birth, the star reaches a destruction period known as "iron photodisintegration." The pressure of the "core" decreases rapidly and the star, when it can no longer tolerate the gravity, shatters and explodes. This is a supernova explosion of a heavy star.
During the supernova explosion, enormous energy is released, and the shockwaves spread into the universe. One explosion of a supernova shines as brightly as a collection of 100 billion stars. Shockwaves also emit X-rays or gamma rays (which have an energy even greater than X-rays). Such shockwaves generated from a big star explosion are known as supernova remnants. A supernova explosion itself lasts only a few seconds, but a supernova remnant will exist in space for more than 100,000 years.