Q. What's the current development status of IKAROS. Was there anything particularly difficult in the development process?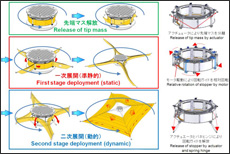 Deployment procedure for IKAROS's sail.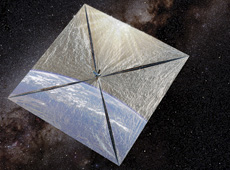 U.S. LightSail-1 (Courtesy of the Planetary Society)
Currently, we are testing. We're running vibration tests, thermal vacuum tests, etc. with actual spacecraft, in order to confirm that all the devices work properly. Such integrate test will continue right up to launch.
The most difficult thing was to develop the technology that would deploy the sail. The sail film doesn't have a supporting frame, and for storage at launch it will be folded and wrapped around the main body of the spacecraft. To unfurl the sail, the spacecraft will spin, generating centrifugal force. Once the sail is deployed, the main body will continue to spin, to maintain that centrifugal force and keep the sail open. This eliminates the need for a supporting frame for the sail film, so the spacecraft can be very light. Using the centrifugal-force method, a bigger sail is easier to unfurl. IKAROS's sail is small for a solar sail, but I think sails with a diameter of 50 to 100 meters will be developed in the near future.
Unfurling such a thin film by spinning is still very difficult, though. We have gone through a long process of trial and error to figure out how we should fold the film so that it spreads smoothly. We conducted many experiments on the ground, and also launched the film aboard a sounding rocket. We even sent it high up in the sky in a big balloon, to spread the film in a near-vacuum environment. We experienced many failures, but we kept searching for the most reliable deployment method, and that led us to the model we've now built. I believe it will be successful.
Q. What kind of solar sails have other countries built in the past?
The solar sail spacecraft Cosmos 1 was launched by the Planetary Society in the United States in 2001 and 2005, but both missions ended in failure due to rocket trouble. The Planetary Society is scheduled to launch LightSail-1 into Earth orbit at the end of 2010.