Q. How did you feel when you saw the retrieved HAYABUSA sample capsule?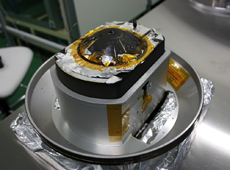 Interior of the retrieved capsule
There was no trace of burning seen inside the capsule, so my true first impression was that it was unexpectedly clean. There is no oxygen in space so there is no chance of oxidation, so it was no surprise that the inside of the capsule was undamaged. But still, I couldn't help being surprised at how clean it was. As far as the heat shield was concerned, even though the front had scorch marks, the shield was intact and the entire surface had burned cleanly and evenly. I was also surprised at how much of the plastic tape that was applied on the heatshield stayed on, even though it was burned. This tape was attached to facilitate analysis - to study how hot the capsule had become after separation from HAYABUSA.
Likewise, I was deeply moved when I saw that the umbilical cable was still there, too. The cable connects the sample capsule and the spacecraft to supply electricity to the capsule's heater and to transmit and receive information and commands. The cable was cut when the capsule separated from HAYABUSA, and then was enveloped in heat of over 10,000°C during re-entry, so I had expected that it would have melted away without a trace. However, to my great surprise, the cable was still there. I couldn't believe it, and at the same time I thought it was a great memento of the HAYABUSA spacecraft.