JAXA held a campaign for posting messages on our new launch vehicle Epsilon between April 10 and May 7, 2013. We have received 5,812 messages. Thank you very much for your participation.
We would like to announce the selected messages through receipt numbers. You can check the location of your message in the design on the Epsilon here.
Your continued support of the Epsilon will be very much appreciated.
Epsilon-1 Design

Design concept
Zone line (all around the launch vehicle): our traditional coloring for our solid rocket launch vehicles
Vertical line (thick line): shows our magnificent history from the Pencil Rocket through the M-V Launch Vehicle.
Logo: sharp lines and a big E emphasize "Epsilon (ε)"
Star mark: indicating our strong desire to probe planets
Vertical line (thin line): showing our one-step-up evolution and streamlining from our conventional development policy
Your messages are on area 1. Zone line.
The enlarged image of your messages is
here
.
Selected messages
Please input your receipt number, and click "To confirm".
Congratulations, your message is on Area
A
.
Sorry, your message was not selected.
Congratulations, your message is on the Epsilon, but your area cannot be checked on the website.
The number you input was incorrect.
Please confirm your number and input it again.
*Those who sent a message in Japanese, please check the status on our
Japanese website
.
Message location
* Click the location where you would like to check, and you can have a look at it on the PDF file.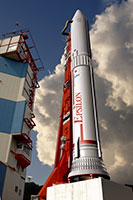 Epsilon-1 Design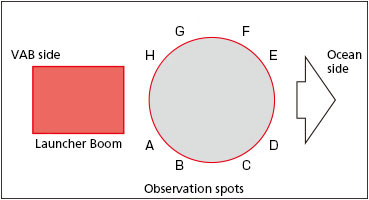 View from the top