---
Between June 26 and August 26, 2007, JAXA asked the public to suggest a nickname for the Wideband Internetworking Engineering Test and Demonstration Satellite (WINDS), which was scheduled to be launched in the winter launch season. We were pleasantly surprised to receive a total of 9,657 names through the Internet, on postcards and at JAXA's event sites during the summer vacation season. Among them, "KIZUNA" (meaning "ties"), which was suggested by 452 people, was selected. The name reflects people's expectations for the satellite to play a key role in ties between people.
Mascot Character "KIZUNA-chan"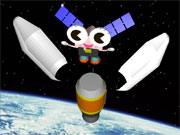 "KIZUNA-chan" was born as the mascot character for the "KIZUNA" (WINDS.)
Her charm point is the big round eyes!
Please support the launch of the KIZUNA.
Illustration: The KIZUNA-chan debuted at an open-house event at the Tsukuba Space Center
Mission Mark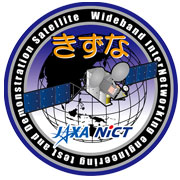 The Mission Mark of "KIZUNA".
Symbol Logo
The symbol logo symbolizes the image of ties connecting many friends all over the world using the super high-speed Internet satellite "KIZUNA".
Reference
---