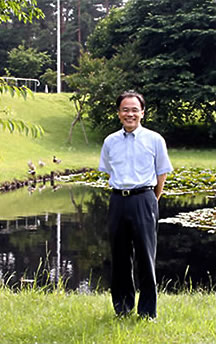 "IBUKI"(GOSAT, the Greenhouse Gases Observing Satellite), is designed to observe the detail distribution of greenhouse gas concentration which thought to be a primary cause of global warming. The Kyoto Protocol, which entered into force in February 2005, made it mandatory for developed nations to reduce greenhouse-gases emissions by 6 to 8 percent from the 1990 level. To fulfill this goal - and to prevent global warming - it is essential to measure and understand the current greenhouse-gas absorption and emission levels of global regions. IBUKI, which is expected to contribute to international efforts in preventing global warming, is currently in the final stages of satellite development, and is scheduled for launch in 2008. We interviewed IBUKI Project Manager Takashi Hamazaki.
Takashi Hamazaki
Project Manager, Greenhouse Gases Observing Satellite
JAXA Space Applications Mission Directorate

Mr. Hamazaki received a Master's degree in Aerospace Engineering from the University of Tokyo Department of Engineering in 1979. The same year, he joined the National Space Development Agency (NASDA, now part of JAXA). Mr. Hamazaki worked with the Systems Planning Department and the Satellite Design Technology Laboratory, and has worked for the International Space Station Program as Government of Japan Liaison to NASA. He also served as a deputy project manager for the Advanced Land Observing Satellite. He has been in his current position since 2003. He is an active member of the Space Systems Committee for the International Astronautical Federation.

---