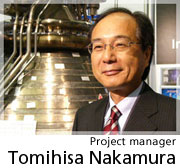 The H-IIB Launch Vehicle is the largest new-model rocket in Japan. The Japan Aerospace Exploration Agency (JAXA) and Mitsubishi Heavy Industries, Ltd. (MHI) are promoting its joint development with the aim to launch it in FY2009. The main mission of the H-IIB is to launch the H-II Transfer Vehicle (HTV), which has a mass of about 16.5 tons, into an orbit at an altitude of about 300 kilometers in order to transport supplies to the International Space Station (ISS). The H-IIB also is responsible for creating and maintaining Japan's ability for large-scale rocket development to compete on the international stage.
To meet the requirements of the H-II Transfer Vehicle (HTV) launch, we will develop a first-stage rocket with a diameter of 5.2 meters for the H-IIB Launch Vehicle. This first-stage rocket is equipped with the two parallel LE-7A engines used for the H-IIA Launch Vehicle, which are combustible at the same time. We will develop a new satellite faring for the HTV, but for the second stage rocket, the Solid Rocket Booster-A (SRB-A) and the guidance control systems, we plan to use common components with the H-IIA Launch Vehicle as much as possible in an effort to maintain and improve reliability, reduce the risks in development, cut costs in developing and building the actual rocket and shorten the development period.
As this will be Japan's first attempt to develop a two-engine cluster booster (first-stage rocket), we will conduct a Battleship Firing Test on it at MHI's Tashiro test site in FY2007. The results from this will then be reflected in a Captive Firing Test at Yoshinobu Launch Complex at Tanegashima Space Center in FY2008. Before launching the test vehicle, we will acquire and analyze as much technical data as possible to promote its secure development.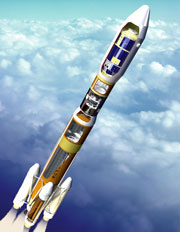 The H-IIB Launch Vehicle is a compilation of the H-II series rockets that were first developed in the 1980s. All the project members from JAXA, MHI and related organizations are cooperating as they embrace the development in order to produce the H-IIB Launch Vehicle as a highly reliable rocket system by ensuring to reflect all our experience and knowledge from rocket development, launch facilities and operations acquired in the past, as well as precious lessons learned in this development. Your support is greatly appreciated.
ISS: International Space Station
HTV: H-II Transfer Vehicle
BFT: Battleship Firing Test
CFT: Captive Firing Test