The National Space Development Agency of Japan (NASDA) conducted for the first time the inter-satellite communications experiment between the Data Relay Test Satellite (DRTS), Kodama*1, and the Advanced Earth Observing Satellite II (ADEOS-II), Midori-II*2, and successfully transmitted the real-time imagery of earth surface taken by Midori-II in the sky where Japan cannot make a direct communication via Kodama in the geostationary orbit to the Earth Observation Center (Hatoyama-cho, Saitama Pref.)
This successful inter-satellite communications verify the data relay function for the first time using the world's most advanced inter-satellite communications technology with Ka-band frequency*3. We get into a full-fledged space network era using inter-satellite technology, following U.S. and Russia.
In addition to Midori-II, NASDA will conduct similar experiments via Kodama of transmitting*4 data from spacecraft circulating around mid-low altitude orbit (300km to 1,000km) such as the planned Advanced Land Observing Satellite (ALOS) and KIBO*5 to the ground station, and try to accumulate more sophisiticated inter-satellite communications technology.
*1. Kodama was launched on September 10, 2002
*2. Midori-II was launched on December 14, 2002
*3. 20-30 GHz band (to use 26 GHz band in communicating with Kodama and Midori II)
*4. Real-time communications are feasible in about 60% of all skies over the Earth.
*5. Japanese Experiment Module to be attached to the International Space Station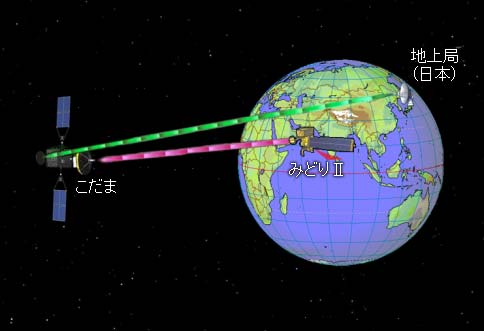 Fig. 1 Image of Midori-II's Data Relay with Kodama
Fig. 2 Possible Areas of Direct Communications with the Ground Station (Japan)





Fig. 3 Possible Areas of Communications via Kodama with the Station

Without a data relay satellite like Kodama, we have a very limited time of communications with a circular satellite like Midori II, when the satellite passes over the visible range of the sky from the ground station (Fig. 2).
However, an earth observing satellite like Midori-II and KIBO of ISS will produce a large quantity of observation data and experiment data, so that they need a longer time without interruption to transmit these data to the ground station. In this sense, it is necessary to set up a number of ground stations all over the world.
Meanwhile, when we use Kodama, we can ensure almost 60 % of the whole spacecraft flying areas as possible communications areas (Fig.3) by relaying Kodama in the geostationary orbit with spacecraft in orbit at the altitude of less than 1,000 km (Fig.1).
This will give us a tremendous time of communicating with spacecraft even at a few ground stations even in Japan with a rather smaller land.
Imagery from GLI aboard Midori-II via Kodama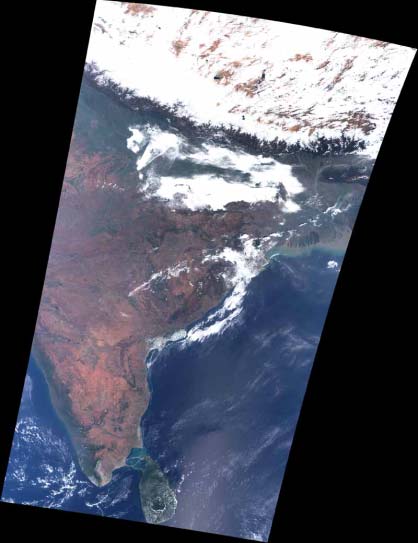 A large area from snow-covered Tibetan Plateau to the Indian Sub-continent and the Ceylon Islands was observed at about 2:00 pm (JST) February 20, 2002.
This is a composite image which was assigned different colors of red, green, and blue to respective data from 660 nano meters (channel 22), 545 nano meters (channel 21), and 460 nano meters (channel 20) in the 3 visible wavelengths of the Global Imager (GLI).
This is also the closest image of what we can actually see.