--- What made you want to study aurorae?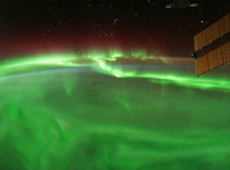 Aurora photographed from the International Space Station (courtesy: NASA)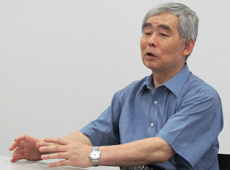 When I was a schoolboy, there was an international project – the International Geophysical Year – from 1957 to 1958. The Earth's atmosphere and magnetic field, as well as outer space, were observed on a global scale. At that time, the news about such events as the launch of the world's first artificial satellite, Sputnik, and the construction of Japan's Showa Station in Antarctica, was eagerly reported. However, TV was not yet popular, so I learned the news in science magazines, newspapers and on the radio.
And one day, I read a newspaper article about Prof. Takeshi Nagata, the then leader of the Japanese Antarctic research expedition. In the article, he was saying, "Aurorae are related to solar activity, but why do they appear on the night side of the Earth? Nobody knows the answer. I really hope that young people will be able to explain this." And I said to myself, "Yes, I will do it!" This was how it all started.
--- Please tell us about your childhood.
I am from Hokkaido, and I was a precocious child who loved to interact with nature. Looking at nature, questions kept popping up in my head. For example, sitting on the beach, watching the sea, I wondered why there were waves despite there being no wind. And climbing a mountain, I wondered why the temperature went down in spite of the fact that I was getting closer to the Sun. When I had these kinds of questions, I tried to look up the answers and think about them as much as possible. And I loved the feeling of accomplishment when I later heard the answers at school. But if anything, I was even more thrilled when I did not understand than when I got it. I am a scientist now, but I am still the same way. When I find out about one thing, 10 new things that I don't understand emerge. There is still no end to my intellectual curiosity.
--- You are thrilled by what you don't know?!
Once you find the answer, it's no longer interesting, is it? So, to tell you the truth, I am glad when an aurora forecast turns out wrong. Wrong forecasts suggest that there are still things to be solved, so we can leave them for younger scientists. So when aurora forecasts for tourists turn out wrong, I am secretly grinning.