--- JAXA has an aurora observation satellite, AKEBONO, and a magnetospheric observation satellite, GEOTAIL. What is your impression of these satellites?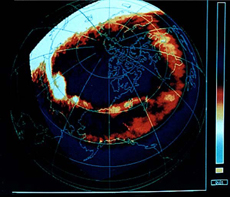 Aurora observed by the AKEBONO satellite
In addition to observing plasma particles, which create aurorae and geomagnetic storms, AKEBONO has discovered ions flowing out from the Earth's polar ionosphere. While electrons that generate aurorae are accelerated in the direction of the Earth, conversely ions escape upward from the upper atmosphere. I think that this is a world-class achievement in the area of ion outflow observations. Although the satellite was launched more than 20 years ago and its aurora imager has deteriorated, it is still continuing to observe magnetospheric particles.
GEOTAIL has achieved great results in its observation of the tail of the Earth's magnetosphere. Plasma particles, which create aurorae, gather at the center of the magnetospheric tail, and GEOTAIL has directly observed that region. This is a little technical, but it was confirmed that a physical process called magnetic reconnection plays a key role in the acceleration of auroral particles. I remember the mission very well because a prestigious U.S. academic periodical, the Journal of Geophysical Research, published many Japanese papers about results obtained by GEOTAIL. Besides, the pre-launch management and planning was impressive, too.
Prof. Atsuhiro Nishida, the former Director General of JAXA's Institute of Space and Astronautical Science, was the project manager. The project progressed under the concept of "all Japan" from its beginning, gathering opinions about what to observe with GEOTAIL, what could be discovered with what data, etc.
Although I am not a hardware person, I attended the meetings, too. The satellite was launched after much preparation, so it is no surprise that people's motivation was very high and many papers were published. Japan led the project, which also involved the U.S. and Europe. The mission is highly regarded in the world in this respect, too.
--- What would you like to see from JAXA in the future?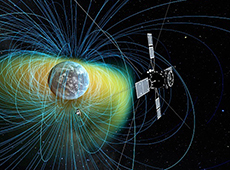 ERG (Exploration of energization and Radiation in Geospace) satellite
Japan has earned a great reputation in the world for the results of solar observation satellites, YOHKOH, launched in 1991, and HINODE, launched in 2006. And now, there seem to be active discussions about the next satellite after HINODE. In the U.S., there is an observatory for measuring the polar magnetic fields of the Sun, but they are observed from the side. I imagine that there are many technical challenges but I hope for the realization of a satellite, which can look at the poles from directly above them someday.
Aurorae are phenomena that occur in geospace, the near-Earth space environment. Geospace is a compound word, consisting of "geo," meaning "earth," and "space." This region is filled with solar wind plasma. JAXA is planning to launch the exploration of Energization and Radiation in Geospace (ERG) satellite around 2015 to observe the radiation belt, which has a large volume of highly charged particles. This also has a lot to do with aurorae, so I am very much looking forward to the data that will be collected. I really hope this mission goes well.
These satellite missions are progressing under the leadership of young scientists. I hope that, like Prof. Nishida of the GEOTAIL project did, they will be able to develop teams capable enough to lead the world. It's important to collaborate with people overseas, but I would like Japan to lead the world anyhow. In the world of research, there is both competition and collaboration. It is no good if you are always fighting, but you cannot be too friendly because otherwise they will take everything from you. For scientists, papers are the end game, so I would like to see many papers by Japanese researchers get published.