Q. How do you want to cooperate with JAXA in the future?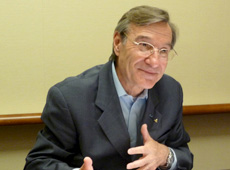 Japan and France have been cooperating on space projects for 20 years, through the collaborative development of space parts such as semiconductors for satellites, and cooperative observations of space radiation using the Ocean Surface Topography Mission/Jason-2. We would like to expand such cooperation further. We also want to see JAXA propose more international cooperative projects in the future.
Currently, we are proposing some cooperative projects with JAXA in various fields, such as satellites, rockets, the ISS and planetary exploration. Specifically, we would like to concentrate on making contributions to environmental issues. In recent years, we have developed the capacity to use advanced satellite technologies to conduct physical and scientific measurements of the atmosphere, the oceans and plant distribution. We are anticipating many achievements from JAXA's Greenhouse Gases Observing Satellite Ibuki, which was launched in 2009. The role of these global observation satellites is huge. The data they collect is very important for research on global climate change, and this information can be obtained only from these satellites, which can observe the entire planet. In the future, we would also like to develop a new method of measurement. To maintain the environment on Earth for future generations, we need to stop global warming.
In addition, we want to think about not only Earth's environment, but also the space environment. It is said that there are tens of millions of "space waste" articles, such as used satellites and smaller fragments. Both the ISS and currently operational satellites are in constant danger of collisions with these objects. The issue of space debris has been discussed at the Inter-Agency Space Debris Coordination Committee, which consists of 11 major space agencies from around the world. Last year a working group was founded to recover space debris. We are investigating a method to observe the articles using radar, in order to find them promptly and avoid accidents, but we would like to tackle this issue in cooperation with the world's space agencies, including JAXA, to protect the space environment.