Q. Could you first tell us about the organization and activities of the Institute for the Physics and Mathematics of the Universe?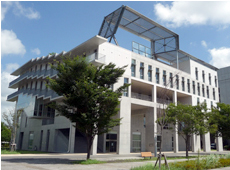 IPMU research building. The spiral structure is seen on the side.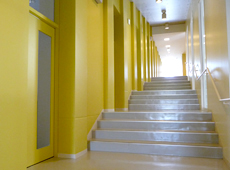 Offices are lined up in a spiral, and the doors are placed on the stair landings.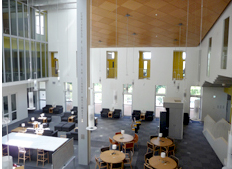 Galileo's words on the pillar at the center of the communication space.
The IPMU was founded to integrate cutting-edge research in several disciplines to address the mysteries of the universe. What is the universe made of? How did it begin? What is its fate? What fundamental laws govern it? And why do we exist at all? Our aim is to address these five questions with the power of science.
We have two approaches to achieve this. One is to conduct research across and beyond specific fields. Questions about the universe are too complex to address with knowledge from only one particular field. This is why the IPMU brings in researchers from different areas - astronomy, physics and mathematics - to work on research together. For instance, Newton discovered the law of universal gravitation, and to explain the law he developed a new branch of mathematics called calculus. By creating new mathematics, he was able to explain the law of gravitation, why an apple falls from a tree, and why a planet orbits the Sun. Likewise, we aim to make discoveries through a marriage of different fields, including mathematics and physics.
Our second policy is to host scientists from around the world. Questions about the universe are common to all humankind, so research should be conducted not just by Japanese but together with colleagues from all over the world. At the moment, 60 percent of IPMU researchers come from overseas. In addition, the IPMU's building has some innovations to facilitate communication between scientists in different fields and cultures. At the center of the building, there is a three-storey atrium, created to provide an area for researchers to mingle. All the offices are lined up around it in a spiral, so the space from the third to the fifth floor can function as one floor. This way, researchers naturally run into each other. Also, at 3:00 p.m. we ring a chime, and all the scientists gather in the common area under a skylight for discussions over tea. This three-o'clock tea time is mandatory to attend unless they are out of the office on business. At the center of the atrium, there is a pillar with words by Galileo Galilei, written in Italian: "Universe is a book written with the language of mathematics." This is the founding principle for research at the IPMU. Q. Reportedly, the IPMU is the first research facility ever to integrate different fields. What impact has this had?Globally, there are many cases of joint research done by collaborators from different fields - such as mathematicians and physicists, or physicists and astronomers - but there had never been a research institute like the IPMU before, where these fields were all put together in one place.
The merit of this is that a new discovery can be made through discussion with scientists in other specialties. A scientist pursues his or her own research, and works hard in the belief that it will lead him or her to answers. However, trying to explain your research to someone in a different field, you sometimes realize that you don't know what you thought you knew.
For example, let's say, I, as an expert in physics, try to explain my research to a mathematician. Mathematics is a study that demands a theory be developed extremely accurately and rigorously. On the other hand, in the world of physics, when we encounter something uncertain, we try to infer or speculate an explanation, even if it may be far-fetched. From the point of view of a mathematician, this is in some sense hand-waving.
So a mathematician will sometimes point out a hole in my explanation, and I then become aware that somewhere there is a gap in my thinking process, and that I am far from a solution, or that I need to think this way to be correct. And through discussions, mathematicians sometimes help me by suggesting a new approach. I am very thankful for this because it is good not only for refreshing my brain but also for closing gaps in thinking about a given problem. But at the same time, I am told that it is also beneficial for mathematicians to know that their knowledge is related to a certain physics problem, because it opens up their world, driving them to think about new directions of research.