Q. How do you think the AKATSUKI mission will advance future planetary missions?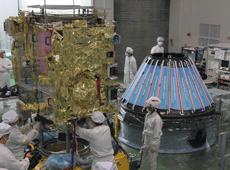 Compatibility test for AKATSUKI (left) and joint section of rocket (right)
I hope that AKATSUKI will become a catalyst for the recognition of planetary meteorology and environmental science as core themes of solar-system exploration. Planetary meteorology studies the conditions that set up planetary atmospheric environments - such as temperature, pressure, and distribution of wind and water - and how these change over time. When you realize that planetary environments are sustained on a very delicate balance, your view of Earth's environment changes accordingly. Japan is one of the leading countries in the field of terrestrial meteorology. With that background, I believe that we can lead the research of planetary meteorology as well.
Q. What is the significance of planetary exploration in the solar system to you personally?
Most importantly, in my opinion, you learn how to look at Earth in relation to other planets. By comparing the planets, you begin to see what makes Earth unique and what makes it ordinary. You start understanding the requirements for the birth of a planet that will have a warm and wet climate and sustain liquid water on the surface, like Earth, by comparing it to Venus or Mars, which did not develop that way.
Another benefit is that it gives you hints for speculating on what the Earth was like in different periods of its history. For example, the primitive Earth soon after birth may have been covered with a much thicker atmosphere than now, looking more like Venus today. Or, through Venus, we might be seeing what the Earth will be like when the Sun swells up at the end of its life. It is also becoming evident that Earth's entire surface froze hundreds of millions of years ago. The climate back then may have been similar to that of Mars today.