Q. Are there any Space Shuttle missions in particular that stand out for you?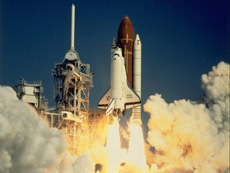 Space Shuttle launch with astronaut Mamoru Mouri on board, September 1992 (courtesy: NASA)
Well of course I remember the Challenger accident in 1986. At the time we were developing FMPT lab equipment, and with no shuttle launches in the foreseeable future I was worried about what would happen to the FMPT. But we didn't interrupt our development work. Instead we just kept making the equipment anyway.
Afterwards, when shuttle flights resumed, the launch of the FMPT was set for 1991, but it was delayed another year due to a hydrogen leak in the shuttle's Quick Disconnect (QD) connector, so it wasn't until September 1992 that astronaut Mamoru Mouri actually flew into space. Our initial plan had been delayed by four years and eight months, though if you consider that the first phase of planning envisaged a launch in 1984, then we were actually eight years behind schedule. But this extra time allowed us to improve our lab equipment and give our astronauts thorough training.
Q. What do you think the Space Shuttle's missions have contributed to Japan?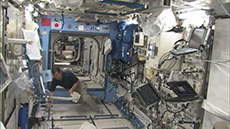 Astronaut Soichi Noguchi working inside Kibo's Pressurized Module
First off, I think space has become more familiar to us because of Japanese people going up there and doing things. Our understanding of space exploration has increased. I also think a really big thing is acquiring techniques for putting humans in space. For example, things like our methods of selecting and training astronauts, the support and health management we give them in space, and development and operation methods for space laboratory equipment are all techniques related to manned space activities.
Kibo has received technical acclaim for being a quiet and comfortable environment that has experienced no major problems, which is thanks to techniques and technologies developed on shuttle missions. I also believe that global praise for Japanese techniques and technology not only helps with space exploration, but also improves Japan's international standing today.
Q. What do you think of the results of Japan's experiments on board the Space Shuttle?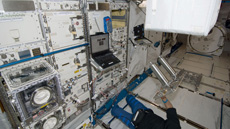 Kibo's racks of laboratory equipment (courtesy: JAXA/NASA)
Scientific research does not produce major results on the first try. I believe you have to repeat and repeat to form the foundation from which results arise. This is how the experiments on the shuttle are connected to Kibo. For example, principles from an FMPT experiment to grow high-quality semiconductor crystals are being applied to an experiment now being conducted on Kibo that deals with the Marangoni effect. There are also plans to continue the reproduction and breeding experiments that were done on the IML-2 with Japanese medaka fish by testing these fish on Kibo, the aim being to identify the cause of disease on the genetic level. The fundamentals of Japan's experiments in space today are a product of experiments performed on the shuttle.
Q. Looking ahead, what do you expect to see from Japanese space exploration?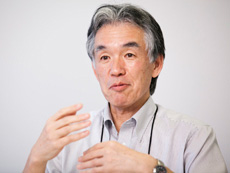 One distinguishing feature of KOUNOTORI, Japan's space station supply ship, is that its hatch for docking with the ISS has a larger diameter than Europe's ship, the ATV, so it can transport larger lab equipment. Now that the Space Shuttle has been retired, there are items we wouldn't be able to carry without KOUNOTORI, so I expect we'll use it a lot. We've also lost most of our opportunities to bring ISS test samples back to Earth. That's why we are working to make KOUNOTORI retrievable on the ground. If we can create that technology, then I think it will lead to the development of a manned spacecraft in the future.
Of course personally I'd like Japan to make its own manned spacecraft. I believe that in the future humans will be even more active in space, so I'd like Japan to lead the world when that time comes. Especially because we're in an economic slump now, I'd like us to have big goals and dreams, and for everyone to come together and work to achieve them.