Terada: What attracted you to space in the first place?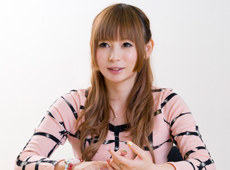 Nakagawa: When I was in elementary school, my grandfather often took me to the local planetarium. That's how I got introduced to the world of space. I think I got really interested in fifth grade. At the time, Comet Hale-Bopp was approaching Earth, and I could see it in the sky at dusk. I was afraid of what would happen if it collided with Earth, but at the same time I thought it was very beautiful. I felt this very strange mix of fear and enchantment. That was the moment I got interested in space. And when I looked at Comet Hale-Bopp with a pair of binoculars my grandfather bought me, it looked much bigger. Its strangeness overwhelmed me. I had this urge to learn more about space, and so I joined the Nakano Stargazers Club. The members were all elderly except me. I was the only child, but I used to go to astronomical observations with them. And soon I began to study space with picture books, and started liking Jupiter very much.
Terada: Are you interested in planetary exploration missions, too?
Nakagawa: Yes, I am. I followed the news about the return of the asteroid explorer HAYABUSA, and I've read books about it, too. People put their feelings and thoughts into what they make. It seems to me that HAYABUSA knew this, and so did its best to fulfill the mission assigned to it. I think HAYABUSA is a wonderful project, and a treasure and pride of people on Earth. It's the kind of miracle that only humans and manmade things can perform. Science is really wonderful. HAYABUSA reconfirmed for me that the advancement of science supports the further evolution of humankind.
Terada: Which space missions are you following now?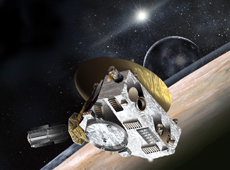 Pluto Explorer New Horizons (courtesy: NASA)
Nakagawa: NASA's New Horizons spacecraft is making its way to Pluto, and its arrival is scheduled in 2015. There are no clear images of Pluto yet because it's too far away from us, but when the spacecraft arrives there, we will finally be able to see Pluto clearly. This is what I am looking forward to most at the moment.
As a matter of fact, I have a connection with Pluto. I couldn't forgive Pluto when it crossed Neptune's orbit. I used to think of Pluto, "You are a planet, but you are smaller than the Moon. Just who do you think you are?!" So I never liked it at all. However, in 2006, Pluto was suddenly demoted to dwarf-planet status. At first I was pleased, but soon I started feeling sorry for it... So I apologized to Pluto on my blog. Later, I wondered why I had struggled so much to take my mind off Pluto, so I did some research about it, and found out that one of my ancestors, Hoei Nojiri, was the astronomer who gave it its Japanese name, "Meiousei"! I didn't know why I couldn't stop caring about Pluto, but I now believe that it was because of that connection.