Q. How did you come to rocket research?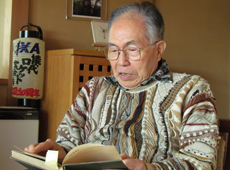 Ryojiro Akiba with the book Rocket Propulsion Elements
It was the influence of Prof. Hideo Itokawa. When I was a university student, I had to design a machine for a graduation assignment. But I was not very good at drawing, so I drew a small measuring instrument without giving it much thought, and handed it in. Then, at the preliminary review, I was scolded for the poor quality, and Prof. Itokawa, who was my advisor, said, "I'll lend you this textbook on rocketry just for one night, so design a rocket." I had no idea how to do it because people had never seen a rocket at that time. Besides, it was an English book, Rocket Propulsion Elements by George P. Sutton.

My English wasn't good enough at that time to read the book, but I sat up all night anyway, trying to figure out the text, because I thought that otherwise I wouldn't be able to graduate. And fortunately, I knew the mathematical formulas in the book, so I was able to understand the content by following them. The next day, I returned the book to Prof. Itokawa and submitted a rocket design. This was my first encounter with rockets. But at that point I still couldn't imagine that I would become a rocket engineer. That didn't happen until I decided to go to graduate school to continue research, and started assisting Prof. Itokawa. At my age now, I am forever grateful to him for having helped me shape my view of the world.
Q. So you met Prof. Itokawa when you were in university.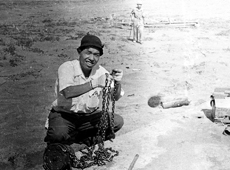 Ryojiro Akiba in his younger days, preparing for a rocket test launch
I happened to put it a request for him as my advisor, and he was assigned. I recall that his lectures were very interesting. His specialty then was medical electronics for electrocardiography and electroencephalography, so I didn't know until later that he was involved in the development of the fighter aircraft Hayabusa before the war. Hayabusa was flying when I was in elementary school, and I used to long to be a part of it. I remember getting excited, imagining I would build or fly in such an aircraft someday. But later, Japan lost the war. I had a strong impression that Japan's defeat was linked to technological capability, and my interest in technology greatly increased after the war.
I made up my mind never to commit military research, but I wanted to study aviation technology. With that aspiration, I entered a post-secondary school established under the former educational system, but in 1950 the school was abolished. Being out of school, I was loitering around without any vision for my future. As a bailout for students like me, the Ministry of Education, Science and Culture (now the Ministry of Education, Culture, Sports, Science and Technology) admitted us to the second year of the University of Tokyo. That's where I met Prof. Itokawa. So it feels to me that these coincidences, connected only by a thin line, guided me to the world of rockets.