--- Among all the research results you have achieved in your career, which one stands out the most?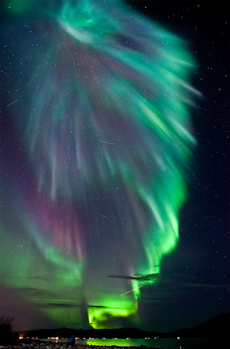 Aurora photographed in Norway (courtesy: Ole C. Salomonsen)
Every aurora has a powerful electric current running through it. In the case of a powerful aurora, the total current reaches millions, or tens of millions, of amperes, with voltages of hundreds of kilovolts. Based on data about the Earth's magnetic field, I have come up with a method for calculating the electric field and current that create aurorae. This method allows us to determine the location and scale of any aurora that is occurring at a given moment, as long as we have ground magnetic variation data.
To be more precise, there are more than 100 stations on Earth to observe the planet's magnetic field, including three stations in Japan: Memanbetsu, Hokkaido prefecture; Kakioka, Ibaraki prefecture; and Kanoya, Kagoshima prefecture. Using observation data collected at these points, I developed a method to determine the location of the electric current causing the Earth's magnetic field, and where the electric field, which conveys the electric charge, comes from. This is like making a world map of the electric potential relating to aurorae based on the distribution of ground magnetic variations. After more than 10 years of thinking, I was finally able to publish a paper in 1981, and instantly received good responses and positive evaluations from around the world.
--- It was good that you didn't give up.
This is a little technical, but I attempted to detect electric fields that create aurorae based on Ohm's law, which states "electric current = electrical conductance x electric field." Ohm's law can be put in a differential equation when it is written with electric potential, so I knew that I needed to solve it mathematically. However, the differential equation was so difficult nobody had been able to solve it for a hundred years.
For about 10 years, whenever I had time, I opened a notebook and tried to solve the equation, but I couldn't. And then one day, when I was almost tempted to give up, the solution came to me. With this idea, I visited an American friend of mine, Dr. A.D. Richmond, and became sure that I would be able to solve the equation with the help of his mathematical genius. And the following year I finally succeeded, using the large computer at the U.S. National Center for Atmospheric Research.