A Successful Partnership Technical Project Manager, PicoDragon Microsatellite Vu Viet Phuong
PicoDragon is a microsatellite developed jointly by Vietnam and Japan. It was launched on the H-II Transfer Vehicle "KOUNOTORI" (HTV) in August 2013, and was released into space in November from the International Space Station by astronaut Koichi Wakata. We asked Mr. Phuong about the current status of PicoDragon and about Vietnam's space program in general.
Vietnam's first domestic satellite

Please give us an overview of the Vietnam National Satellite Center (VNSC).
VNSC is Vietnam's national space research organization, under the Vietnam Academy of Science and Technology. VNSC was established in September 2011 based on a decision by the Prime Minister of the Socialist Republic of Vietnam. Its four main tasks are:
research and development of small satellites
space technology applications
development of high-level human resources in satellite technology
receiving, managing and implementing the Vietnam Space Center Project, which is scheduled for completion in 2020

What are your responsibilities at VNSC?
I manage the technology division for small satellites; I am the project manager of the PicoDragon microsatellite, which was launched last year; and I am also working at the Project Management Unit, which is running the Vietnam Space Center Project. In addition, I teach a course on space technology for engineers at Vietnam National University.

Could you tell us about the PicoDragon microsatellite? Why was that name chosen?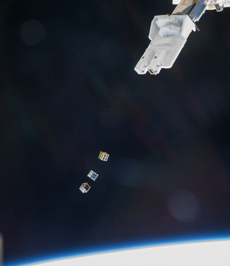 Three microsatellites released from the Japanese Experiment Module Kibo. Two microsatellites, chosen from NASA's open call, were released with PicoDragon
PicoDragon is a CubeSat, 10 cm by 10 cm by 10 cm, weighting 1 kg. Its objectives are
taking images of the Earth
testing the communication link between the satellite and the ground station
promoting space technology development
developing human resources in space technology
The name PicoDragon is a combination of "pico," which means "bit" in Spanish, and "dragon." The dragon is a traditional symbol of Vietnam, and also relates to the legend of the creation of the city of Hanoi, whose old name is Thang Long, meaning Ascending Dragon, in 1010.

What is happening with PicoDragon right now?
PicoDragon is operating in low Earth orbit, sending beacon signals everyday. The signals are being received not just by VNSC's ground station but also by many radio amateurs. By successfully linking up with our ground station, PicoDragon became the first made-in-Vietnam satellite that is operable in space. However, we currently have a problem receiving the telemetry, which tells us the operating conditions of the satellite. We can receive only very short messages.
Success achieved with cooperation from Japan

PicoDragon was co-developed with Japan, wasn't it?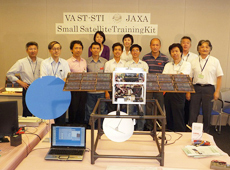 Training session for satellite specialists held at JAXA in 2008 (courtesy: VNSC)
That's right. PicoDragon was developed by VNSC, the University of Tokyo, and IHI Aerospace Co. Ltd. The project started in 2007, and JAXA has assisted us a lot since the early stages. I liked the way JAXA helped us very much. Rather than guiding us every step of the way, they let us research freely, and kept us on the right track with timely reviews, so we could be more free and active. This can take a bit longer than a step-by-step guiding method, but in the end we have become capable of going further on our own.

What do you recall about your days in Japan?
We still remember the days at JAXA's Tsukuba Space Center, where we received assistance and guidance from satellite specialists. Through the joint project, we learned a lot about developing satellites and related space technology. They helped us learn not just the technological aspects, but also about working in the space field. Such cooperation is what made PicoDragon a success.

What were the challenges you encountered during the development process?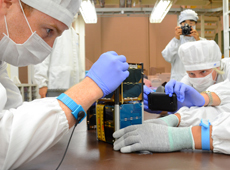 Satellite under development (courtesy: VNSC)
There were several challenges, because we had no experience in developing satellites. In Vietnam we lack the necessary facilities, and also had problems with the procurement of satellite components. In addition, the composition of the team sometimes had to change because VNSC sends engineers overseas to study. Besides, we had a very tight budget for the project.

What kind of outcomes has this project had?
Receiving telemetry from PicoDragon was a great technological achievement. Many young engineers have gained valuable experience in satellite development. To reflect this experience in university education and engineer training, we are documenting the process of the development of PicoDragon, and are creating a software development kit for microsatellites. The success of PicoDragon, needless to say, has contributed to the advancement of Vietnam's space technology, but more importantly it has encouraged the younger generation to study space science and technology. We have received big cheers from the pubic, and it is pushing forward the development of our future satellites.
Completion of the Vietnam Space Center in 2020

What else is happening in Vietnam in terms of space development?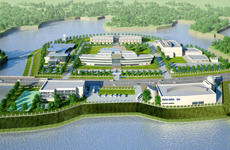 Artist's rendering of the Vietnam Space Center (courtesy: VNSC)
In 2006, the Prime Minister approved the Strategy for Research and Application of Space Technology of Vietnam by 2020. It aims to establish the framework for research and development, application, education, and international cooperation in space technology. To be more precise, the policy includes:
mastering the technologies and building infrastructure for the design, production, and operation of small Earth observation satellites
training a contingent of highly-qualified personnel
researching rocket technology and techniques
applying space technology in a wide range of areas, such as manufacturing, services, education and healthcare
VNSC was established to implement these goals. Also, in November 2011, the construction of the Vietnam Space Center using Japanese ODA (official development assistance) was approved.

Has construction started yet?
We have completed the design process, which is currently being evaluated by the governments of Vietnam and Japan. The space center will be built in Hoa Lac High-Tech Park in Hanoi. We are now preparing the space for building facilities, and have almost finished landfill in the area, where there used to be a lake.

What facilities will be built on the site?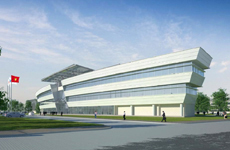 As a hub of satellite development, the Vietnam Space Center will have comprehensive facilities (artist's rendering) (courtesy: VNSC)
As a hub for researching and manufacturing small satellites, it will have facilities for assembling and testing small satellites, communicating with satellites, analyzing satellite images, etc. We will also build a training center for developing highly qualified personnel, and a planetarium for public education. Once these are all completed, it will be the most modern space technology center in Southeast Asia.
In 2017, we are scheduled to launch a small Earth observation satellite, LOTUSat-1, which is going to be built in Japan with the participation of Vietnamese engineers. We would like to complete the foundation of the space center by 2016, so that we can use the facilities for the preparation. In the meantime, LOTUSat-2 is scheduled for launch in the second half of 2020, and its entire process, from design, to assembly, to testing, will happen at the Vietnam Space Center.

We are looking forward to the completion of the space center. Once the space center is complete, how do you expect it to benefit people in Vietnam?
The official name for the Vietnam Space Center Project is the Project for Disaster and Climate Change Countermeasures Using Earth Observation Satellites. As the name indicates, we will contribute to countermeasures against damage caused by natural disasters using satellite images. Having a long north-south coastline, Vietnam has long suffered from many natural disasters, such as typhoons and torrential rains. By using satellites to continuously monitor storms and floods, we will be able to issue emergency warnings in time to mitigate disasters. Also, by using satellite images to study rising sea levels and climate change, we will be able to prepare countermeasures in advance. The space center will also contribute to forestry by monitoring wildfires and illegal logging. There are many more ways we can help people by using satellite images, including monitoring the growth of crops. The space center is expected to help us build a more secure society.
Better cooperation in the Asia-Pacific region

How would you describe cooperation among the space agencies in Asia?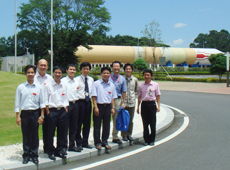 Group photo taken at JAXA's Tsukuba Space Center (courtesy: VNSC)
This is just my personal view, but I think that cooperation among the space agencies in Asia-Pacific is quite loose. I have the impression that Asian countries like to develop space technology on their own, so it seems difficult to find common ground. However, international cooperation is essential for developing countries in space technology, so we would like to see a tighter relationship. For us to cooperate effectively, we hope that we can exchange technology, knowledge, human resources, and opinions – and in the future, facilities as well.

Finally, what would you like to see from JAXA?
VNSC has built a good relationship with JAXA through the PicoDragon project, and we are looking forward to even stronger cooperation, especially in technology, where both teams can easily share opinions. For example, JAXA can share their knowledge of satellite development and experience in specification requirements and standards, and we can bring ideas and opinions about new partners and customers, and even manpower, if we have suitable staff. Also, we are planning to develop a nanosatellite in the near future. If JAXA has any devices or modules they would like to test in space, we can load them on the satellite, too. We look forward to even stronger cooperation.
Vu Viet Phuong
Vice Director, Vietnam National Satellite Center
Project Manager, PicoDragon Microsatellite
Before joining the Vietnam National Satellite Center, Mr. Phuong worked as a radio and air navigation engineer at Vietnam Air Traffic Management, Vietnam domestic network manager at Societé Internationale de Télécomunications Aeronautiques and Orange Business Services, and as a visiting researcher at the Space Technology Institute, Vietnam Academy of Science and Technology. He specializes in electronics and telecommunication.