Since I started working on the OBSS development two years ago, I have spent many hours in the meetings and on operation tests for the OBSS development. When making design recommendations to ensure operational safety, sometimes there were technical challenges so we had many very long and heated debates. As a result of those discussions though, I believe that we succeeded in designing an excellent inspection system. Developing this new system was difficult and challenging work, and it gave me a different perspective from astronaut training. So participating in the OBSS development was a very significant experience for me.
For the safe completion of a mission, the OBSS is an extremely important system for Soichi's flight. Safe completion of the mission was always uppermost in my mind as I participated in the development of this system for the Space Shuttle.

Working on the development of the OBSS, I realized how difficult it is to ensure the safety of operations of manned spaceflight systems, such as the Space Shuttle or the International Space Station. Also, watching NASA closely for the two years since Columbia's accident, I have a strong sense that NASA is really a top-notch technical organization with exceptionally positive energy. I believe that Columbia's accident pushed NASA to its strongest focus ever on safety improvements for spaceflights.

Every day, I see everyone at NASA working very hard as a team for the return to flight. In addition, in a different sense from my astronaut training, it was a really precious experience for me to work with them as a member of the OBSS development team.
Watching Columbia's accident brought me to the deep realization that it is still a high risk for humans to go to space. However, despite all the possible risks, the reason we still want to go to space is the new discoveries which will be achieved through the space exploration, and we know these discoveries will lead to the birth of new technologies and knowledge to improve our life on Earth. All the astronauts are very aware of the significance and also the danger of spaceflights.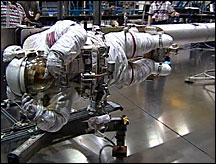 Astronaut Koichi Wakata, in a space suit used for extravehicular activities, is conducting a development test of the OBSS.(Courtesy of NASA)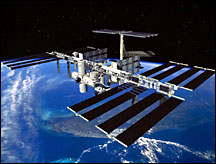 The International Space Station is a very large scale and important project that is in progress with the collaboration of 15 countries. Various experiments and research, which will be carried out in the unique environment of space, and also Earth and space observations will give us beneficial knowledge and technologies for our lives and the future of humankind.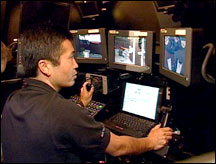 Astronaut Koichi Wakata is conducting a trial test for the OBSS using a simulator.(Courtesy of NASA)