2005 was eventful and, I would say, a good year on the whole.

The year started with the successful launch of H-IIA F7 in February. Later came the launch of the X-ray astronomy satellite Suzaku (ASTRO-EII), by M-V rocket, in July, and the launch of the Optical Inter-orbit Communications Engineering Test Satellite (OICETS) Kirari, in August. Interestingly, Kirari was launched along with the small satellite known as the Innovative Technology Demonstration Experiment Satellite (INDEX), or Reimei, not from a Japanese launch vehicle but from a Russian rocket.

In September, the asteroid explorer Hayabusa arrived at the asteroid Itokawa, and began capturing images that will help us unravel the mysteries of the asteroid. In November, Hayabusa landed on Itokawa and attempted to collect soil samples. Although we don't know yet whether the attempt was successful, I am hopeful that the capsule will return to Earth safely with the first-ever asteroid samples collected in space.

Finally, in October, we completed an unmanned supersonic aircraft test in Australia.

In July, Japanese astronaut Soichi Noguchi took part in the first space shuttle mission since the Columbia disaster, and made great strides during the flight. It made a strong impression on me how enthusiastically he was embraced by all of Japan. I believe that our people value astronaut Noguchi's accomplishments highly, especially because there are so few who have made it to space. Major media coverage of Hayabusa and astronaut Noguchi's space flight definitely revived Japanese interest in space.

In addition, to celebrate the 50th anniversary of Pencil rocket, a commemorative event was held last August. It was very meaningful that many children had a chance to see an actual horizontal launch of a pencil rocket, which was the first step in Japanese space development.

I became President of JAXA in November 2004, and unfortunately, I was initially quite busy with post-failure analysis. From my perspective, in 2005 things finally returned to normal.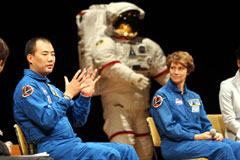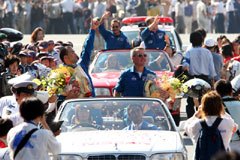 Astronaut Noguchi's homecoming reception