Q. In 2003, Arianespace signed a mutual backup agreement for commercial satellite launches with Boeing Launch Services in the United States and Japan's Mitsubishi Heavy Industries. What is the story behind this? And what is the benefit of cooperation with your rivals?
The satellite launch business can be very risky. No matter how much effort is put into ensuring technical reliability, problems causing schedule delays inevitably occur once in a while. This is also a problem for our clients, since their business can be affected if a satellite isn't launched on schedule.
Taking this into account, we have negotiated an agreement whereby satellites that cannot afford a delay will be launched by another rocket if the Ariane launcher is behind schedule. The agreement includes our Ariane 5 launcher, the H-IIA by Mitsubishi Heavy Industries, and Boeing's Sea Launch. A client who has signed a contract with any of these three companies can choose one of the other two as a backup launcher. Of course the replacement rocket must have an equivalent mounting system and flight environment, and so Arianespace has been negotiating compatibility with Mitsubishi Heavy Industries since the 1990s. As you know, they are the manufacturer of JAXA's H-IIA rockets, and starting in 2007 are also responsible for H-IIA launch services.
We are competitors, but we prefer to be cooperative partners rather than harming each other's business. I want our clients to trust both Ariane and H-IIA rockets.
---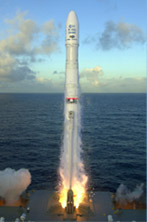 American Sea Launch
(Courtesy of Sea Launch Company, LLC)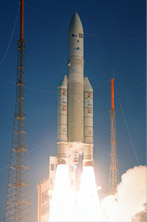 European Ariane 5
(Courtesy of Arianespace)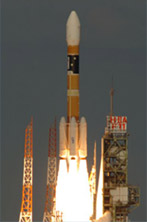 Japanese H-IIA
Q. Do you collaborate technologically with Boeing Launch Services and Mitsubishi Heavy Industries?
Our backup agreement covers the use of launchers, but not manufacturing. H-IIA rockets are manufactured and launched by the same company, but Arianespace doesn't build rockets. Most of the parts for Ariane rockets are made by various European companies. We order rockets from a prime contractor called Astrium, and contract with clients such as satellite communications companies to launch their satellites.
Q. Arianespace has a close cooperative relationship with Russia as well. Could you tell us more about this?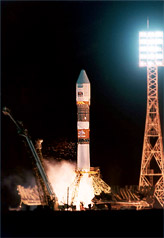 Russian Soyuz
(Courtesy of Arianespace)
In 1996, Arianespace founded a company called Starsem with Russia, aiming at commercial launches with Russian Soyuz rockets. Ariane 5 is a heavy launcher, while Soyuz is a medium launcher, and has had a very long career since it launched the world's first satellite, Sputnik, in 1957. Soyuz is ideal for medium-sized satellites, while Ariane 5 is not economical for a satellite that is relatively lightweight and requires being the only payload. In 2000, the European Space Agency (ESA) scientific satellite Cluster II was launched by Soyuz rocket from the Baikonur Cosmodrome in Kazakhstan. Ariane rockets are launched from the Guyana Space Center of the French space agency CNES, and Soyuz launch facilities are now under construction there too. Our relationship with Russia is driven by economic efficiency.
Q. To reduce cost and increase reliability, H-IIA launch operations are being taken over by Mitsubishi Heavy Industries in 2007. What do you think about this transition?
I think their H-IIA rockets are wonderful. There were some launch troubles in the past, but they have had six consecutive successful rocket launches, and their reputation has been rising. However, what should be taken into account is the significance of privatization. Space development takes so much time and money, it's a difficult field for a company to run a successful business in on its own. I think it is possible for the private sector to make a profit manufacturing rockets, but at the same time, it could take just one failure to completely ruin the business. Whether it is Europe, the U.S., Russia or Japan, space development has to be lead by government in my opinion. In the case of Europe, ESA and CNES are responsible for the technology of Ariane rockets. Arianespace just holds the operating license. In other words, just part of the overall work is privatized. I hope that JAXA will continue to play a core role in improving rocket reliability.
---