Q. What is your attraction to space science?
I've been fond of space science since I was a child. It's always fascinating when mysteries are unveiled. I think the most exciting aspect of space science is being able to see something that has never been seen before, using the newest and most advanced observation technology.
Q. How do you think space activities will change the world?
Generally speaking, you cannot fully grasp your world until you leave it. People on Earth cannot have a true picture of the planet unless they observe it from space. As the first man in space, Yuri Gagarin, said, "The Earth is blue." There is so much you can learn when you survey an object from the outside. So the first step to learning about our world, in my opinion, is to leave it. Rather than changing the world, space activities, I think, will greatly influence our worldview.
Solar power satellites, space elevators, immigration to the Moon, Mars or to other stars - every time there is a large-scale space project in the future, our worldview will be altered. Indeed, our knowledge about the Earth has already changed thanks to space missions. As space activities reveal more about the Earth, the substance of our culture is affected in many ways, allowing us to see more clearly the nature of things. And I think this will have a positive impact on our future in the long run.
Q. How has our worldview changed through space activities? And, do you think that space activities can save the world?
What we have learned from space activities thus far is the condition of our habitat on Earth: human habitation is possible only in certain regions on the Earth's surface, and the atmosphere is very thin. In comparison to other planets - Venus is also a terrestrial planet, yet it is extremely different from Earth; and Mars does not have an environment that can support human life - we get a good sense of just how fragile and delicate the Earth's environment is.
The question of whether space activities can save the world is difficult to answer. I don't think that anyone can tell what will save the world. It's like the question of whether science can save the world. In the end, it will all depend on human morality and knowledge. If we use our morality and knowledge for good, it will help save the world. But if we do not pursue the greater good, the world will respond accordingly. In my opinion, whether space activities can save the world is up to us.
Q. What are your hopes for Japanese space activities?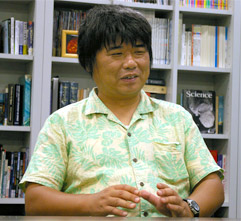 Japan has some pillars for space activity. One of them is launch vehicles and applications satellites, and I'd like Japan to maintain the current course in that area. At the same time, I'm hoping that Japan will initiate something new that will stir enthusiasm among the public, like the recent asteroid explorer Hayabusa. I'd like to see JAXA create excitement by doing things that nobody has done before.
I'm also hoping that Japan will start its own human space flight project. I'd like to see Japan using its own domestic spaceships and rockets, rather than relying on foreign space vehicles. It will not be so expensive if Japan, like Russia, adopts the method of using space capsules whose main purpose is carrying people, and which can be launched with a relatively small rocket. I think that what it takes to initiate this is merely courage. People are, after all, interested only in human affairs, so the public pays great attention when someone takes off for space. It will also have a positive influence on engineers, since there will be humans onboard. Taking a human being to space and bringing him or her back home is a thrilling project. I'd really like to see it happen. And a spinoff I expect from human space flight is inspiration for children. I truly hope that children, enchanted by human space flight, decide to study science and technology at school, and get involved in space projects in the future.
When students learn about space, some of them always aspire to space-related occupations. Space activities require strong human resources, and therefore it's critical that there be enough people who are keen to have space-related jobs. I think it's important to create an environment where their dreams are encouraged to come true.