Q. First of all, could you explain what space medicine is?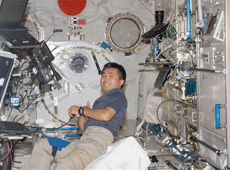 Astronaut Koichi Wakata in Kibo's Pressurized Module (Courtesy of NASA/JAXA)
I think that space medicine is the ultimate preventive medicine, because in the space environment it is essential to prevent problems before they occur. A spacecraft is a weightless and enclosed environment with cosmic radiation, which is very harsh for human beings. One effect of the microgravity environment on the International Space Station is the weakening of astronauts' bones and muscles. Another hazard is cosmic radiation. On Earth, it's absorbed by the atmosphere and barely reaches the surface, but in space it's unavoidable. Also, astronauts live and work 24 hours a day in the small, confined spaces of the ISS or the Space Shuttle, which can cause enormous psychological stress. Finally, as with sick building syndrome, where re-circulated air causes a variety of health problems, a long stay on a spacecraft can harm your health with gasses released from various things that surround you. I believe that the objective of space medicine is to prevent astronauts from being affected by the harshness of the space environment, and to bring them back home in as healthy a state as they were in when they left. Medical technology research is a critical part of managing the astronauts' health in space and on their return.
Another interesting aspect of space medicine is the ability to observe the whole process of a shift in the health of a fit person in a short period of time - from departure and liftoff, to going thorough a state of illness in space, to recovering after returning to Earth. In general, on Earth, you see a doctor when you already have symptoms of illness. That is, the symptoms of, say, weakened bones are already in progress when the doctor sees you, which makes it difficult to observe and understand the initial stage of the condition. However, space medicine allows doctors to observe the entire process, from a healthy astronaut first getting space motion sickness, through to recovery, or from his or her bones becoming weaker to their return to normal after return to Earth. I find this fascinating.



Q. What kind of research is conducted at the JAXA Space Biomedical Research Office?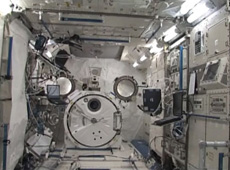 Interior of Kibo's Pressurized Module (Courtesy of NASA/JAXA)
Our research style is problem solving. In space, humans experience many health problems, including space motion sickness, weakened bones and muscles, calcium excretion, and lack of exercise. Our primary objective is to investigate what happens when these problems are left untreated, and to find preventive measures. Our research target is the ISS, and we have five research disciplines.
1)

Physiological health: to find ways to prevent bone-density loss and kidney-stone formation through the use of medication and effective exercise equipment, and through training methods for a microgravity environment.
2)

Radiation exposure management: to investigate radiation protection and develop instruments to measure exposure.
3)

Psychological support: to develop adaptive training methods for living with people from different cultures and working efficiently in a confined space.
In addition, it is important to conduct research for future programs by making optimal use of the ISS. To that end, we are doing research for human activity on the Moon, which we call "moon-base frontier medicine." Furthermore, our research takes place not only on the ISS but also in a simulated environment at the Antarctic base.
Q. Could you explain what moon-base frontier medicine is?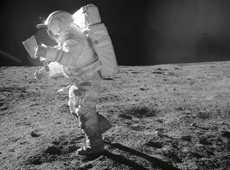 Apollo 14 Astronaut walking on the Moon (Courtesy of NASA)
The chapter on moon-base frontier medicine has just begun. Through the Apollo missions, 12 astronauts landed on the Moon, but the purpose of their expedition was exploration, not life sciences research.
In this field of medicine, for safe stays on the Moon, we are studying:

- a telemedicine system
- the effect of regolith (dust on the Moon's surface) on lungs
- the effects of exposure to cosmic radiation, which is greater on the Moon than on the ISS

We are also studying kinesiology for walking and posture control, as well as preventing falls on the Moon. Watching footage of the Apollo astronauts on the lunar surface, you notice that they are bounding more than walking. They often fall, too. On the Moon, you cannot control your posture like on Earth. I would like to find out whether it has something to do with the fact that lunar gravity is one sixth of Earth's 1G.

The biggest reason to study moon medicine is that lunar gravity is so weak compared to Earth's. On the ISS, we can study the effects of microgravity, and we already know that in that environment, bones and muscles develop abnormalities. But we don't know what happens on the Moon's surface, which has one sixth of Earth's gravity. At what level of gravity are abnormalities triggered? By investigating these aspects, we might be able to understand the mechanisms of diseases and physiological phenomena that are obscured by Earth's gravity. So that's why I am very interested in moon-base medicine.
The United States and Russia are far ahead of us in research on zero gravity, because they have their own manned rockets and a long history of research. But when it comes to moon-base frontier medicine, all countries are currently on par, so Japan has a chance to lead the world in this field.