Q. Can you give us an overview of the goals and activities of CNES?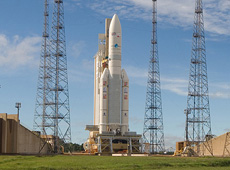 Ariane-5 rocket (Courtesy of CNES/ESA/Arianespace/Activite Optique Video CSG, 2008)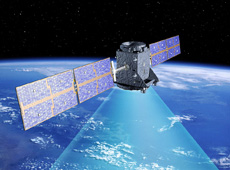 European GPS satellite Galileo (Courtesy of ESA)
The Centre National d'Études Spatiales is a government agency that plans, manages and operates the space policy of France. French space policy consists of five areas: 1) access to space, such as the launch of satellites; 2) Earth observation, to contribute to environmental protection; 3) space utilization, in communications, broadcasting and global positioning; 4) space science, such as studying undiscovered worlds through planetary exploration; and 5) security, to protect our nation. All these areas have comprehensive space strategies.
CNES has four centers: its headquarters in Paris; the Toulouse Space Center, which houses the research and development department; the Launcher Directorate in Evry, which develops launch vehicles such as the Ariane program; and our launch facility at the Guyana Space Center, in Kourou, French Guyana. Our role is to develop innovative technologies for next-generation space missions, and to transfer these new technologies to industry for application.
European space development is a cooperative effort of the European Space Agency, the European Union, and each country's space organizations. The EU has just started to get involved in space policy over the last few years; before that, ESA had led the way on space development. CNES developed ESA's Ariane rocket and, some technology for the Global Positioning System satellite Galileo. France has nearly 40 years of space policy history, as do other European countries, but space development needs enormous funds and it is impossible for one nation to cover everything. For that reason, in 1975 the European nations came together to found the European Space Agency, which today has 18 members. Along with Germany and Italy, France is one of the largest contributing countries to ESA. France alone provides more than 30 percent of its budget.
Q. What are the top-priority projects at CNES today?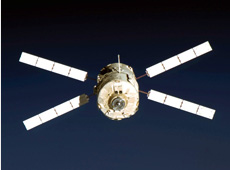 The first ATV separated from the ISS (Courtesy of NASA)
CNES has comprehensive space strategies in the previously mentioned five areas. Among these, launching rockets and the International Space Station (ISS) both require large expenditures. Next year, our facility in French Guyana is going to start launching the Russian Soyuz and Italian-led Vega rockets, as well as our own Ariane rocket, so we are currently building a launch pad for the Soyuz. In a few months, we will be capable of launching satellites ranging in weight from hundreds of kilograms to several tonnes aboard three types of rockets: the Ariane, Soyuz and Vega.
We have started the development of the next-generation Ariane rocket, the Ariane-5 ME (Mid-life Evolution). We have also been managing projects, performing research and development, and operating satellites at the Toulouse Space Center. And last year we began operation of the European Automated Transfer Vehicle (ATV), which transports supplies to the ISS. The first ATV was launched on an Ariane-5 rocket in March 2008, and transported about 6 tonnes of supplies to the ISS, including food, water and oxygen. The ATV-2 is scheduled to be launched next year. The first Japanese H-II Transfer Vehicle (HTV) was launched in September 2009, so we would like to make the ATV-2's launch a success, in order to contribute to the operation of the ISS along with the HTV.