Q. What is the reason you chose a new job at the United Nations after being an astronaut?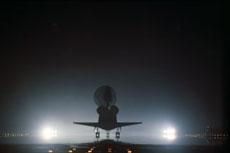 Return of Space Shuttle "Endeavour," which Astronaut Doi was aboard (STS-123 mission). (Photo by NASA)
After I returned to the Earth two years ago on completion of the mission to install the first module of "Kibo", which is the Experiment Logistics Module-Pressurized Section, to the International Space Station (ISS), I had an opportunity to really think about if I should continue to be an astronaut or if I should go back to Japan to be engaged in any development work or if I should find another new challenge. Shortly after that time, I happened to find the listing of the recruitment of the Chief of the Space Applications Section in the United Nations Office for Outer Space Affairs. I was attracted by this job because I sensed something new in the United Nations involving both the world and space. So I applied for the job.
When I saw the Earth from space, it seemed to me that the entire globe was just one world. Actually, however, there are various countries, many kinds of cultures, and a variety of people living on the Earth. It is not possible to know what is happening on the Earth from space. After returning to the Earth, I became interested in how people live and how space development is promoted around the world. I thought that it would be interesting if I could promote space development for many different countries. That was one of the reasons that I was attracted to the job at the United Nations.
One more reason is related to my experience when I flew on the ISS. Because I felt that the ISS, which fifteen countries are participating in, should become one of mankind's great resources, I wanted to challenge its promotion at the United Nations. I would say that my experiences when I saw the Earth from space made me select the new job at the United Nations.
Q. I believe that your work and lifestyle have changed significantly from when you were an astronaut. What kind of changes have you experienced in particular? And let me know about any interesting ones.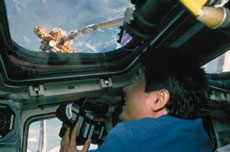 Astronaut Doi taking photos of the release of the Spartan spacecraft during the STS-123 mission. (Photo by NASA)
The major change is that I have a broader global view. One more change is that I started working for the world, not for myself anymore. When I was an astronaut, I had to improve my ability in training and technical aspects as an astronaut. I can say that I worked for myself and JAXA. However, my perspective has expanded drastically by almost 100 or 1000 times at the United Nations because the job is on a world scale. I realize that I work for the world, not for myself.
One interesting aspect of my job is the cafeteria in the building where I work at the United Nations. People from many countries gather there. Because they communicate with various languages, many of which I can't understand, I feel strongly that I am exposed to the diversity of the world while having lunch.
Q. Previously, you were involved in a limited teamwork of selected astronauts for missions, but now you are in an expanded teamwork with a wide variety of people in the world. What is the difference between these two types of teamwork?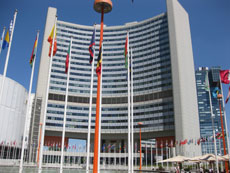 Courtyard of the United Nations Office in Vienna. The flags of 192 member countries are lined up. (Photo by UN Outer Space Affairs)
In Japan, we can understand each other because everyone is Japanese. At NASA, we made a team for a mission, sometimes with astronauts from several counties. It was easy to create a sense of teamwork because we had definite goals. It is impossible to complete any mission without teamwork in the first place. On the other hand, United Nations workers come from many countries. I think it is difficult to create a sense of teamwork here because there are many differences in the cultures, experiences, languages, and ways of conducting work. In addition, we don't have a definite goal since we deal with many different requests from the Member States. I feel like we have to create a goal while working on it together. Because we work with a wide variety of people, we have to give preference to other people's points of view over our own, and we need better cooperativeness than when I worked at NASA.