Q. Does the Epsilon launch vehicle use the same propellant as the one used for the M-V rocket?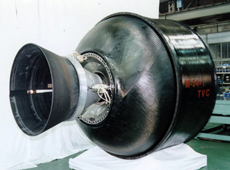 M-V rocket motor case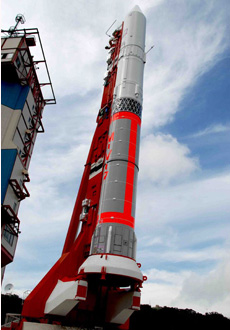 M-V launch vehicle
Yes, it is the same propellant. The first Epsilon rocket will take off in 2013, which is coming up soon. It takes so much time and labor to change the fuel that for the time being we will stick with propellant that's been proven reliable. We are planning to develop new solid fuel in the next stage.
There is currently a wide variety of research on new fuel. One that we are studying is something that will fundamentally change the production method of solid-rocket fuel. Conventionally, solid rocket propellant is blended with a mixer in a half-liquid condition, poured into a motor case, then heated for shaping. Once it has solidified, it cannot be brought back to a half-liquid state, so there isn't much time to conduct the entire process. And therefore, even if the required amount of propellant is prepared and divided into a few portions for mixing, it requires very large mixers. In addition, when transferring propellant into the motor case, you have to be very careful to ensure that there are absolutely no bubbles. It is a very intense one-shot deal.
On the other hand, the fuel we are developing is made completely the opposite way. This fuel will melt as many times as it is heated, and harden again at room temperature - just like a chocolate bar. That allows a fresh start when it is necessary. For these characteristics, it has the key benefit that the mixer can be small. Propellant is blended with a small mixer, produced little by little, nonstop, and can be stored like a chocolate bar. Then when there is enough, it can be melted and inserted into the launch vehicle so that it fits perfectly. This is a far more efficient method of fuelling a rocket. I think that one key to the future of space development is miniaturization, which increases efficiency.
A small mixer is also beneficial in terms of cost. A conventional large mixer not only costs billions of yen to make, but the maintenance fees are also immense, and on top of that, it involves many engineers, so personnel costs are high. With a small mixer, all these costs are reduced, so the cost of a rocket launch is a lot lower. Instead of just complaining over the shortage of funds for space development, I think that we need to come up with innovative ways to work within the limited budget we do have. Q. But if operations are streamlined too much, the volume of employment will be cut down as well. Won't space manufacturers be hesitant about miniaturization? Certainly, some manufactures are reluctant to do so. However, without making machinery smaller and also reducing manpower, I think it will be difficult for the space industry to survive in the future. When a factory's manufacturing process is streamlined, the profit from each unit may be reduced, but it won't be a loss overall as long as production volume is increased. I think manufacturers and scientists have similar goals: they need to make a larger number of products to make a profit, and we want to launch many satellites.
Personally, I don't dislike the current process of launch preparation, where many people gather and camp out at the launch center for a few months. In fact, that was one of the reasons I enjoyed my job. However, this style hasn't changed at all since the Apollo era of the1960s. For the future of rocketry, in my opinion, we need to build a system where launch vehicles can take off frequently and come back like airplanes. Unless we change the existing approach and establish a system for rockets to be launched by just a few people, the next generation of rockets will never be born. Someone needs to pull the trigger at some point, and I believe it's our job to do so.