Q. You've consistently focused on elementary and middle school kids (5th to 8th grades). Why did you decide to focus on this age group?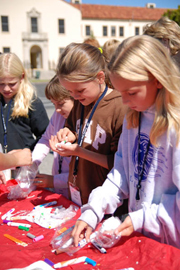 Science Festival (courtesy of Sally Ride Science)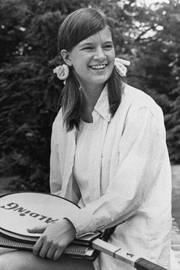 Dr. Ride was an avid tennis player in high school and college (courtesy of Sally Ride)
There's a lot of research that shows that students - and I'll speak about students in the United States now because that's the research that we're going on - are very interested in science when they're in 4th grade, 5th grade, when they're nine, ten years old. And then they start to drift away from science as they become 11, 12, 13 years old. And once you lose them at that age, it's very difficult to get them back.
So it turns out that if you had to focus on one particular area, one particular age group, and therefore one particular grade level in school, you'd focus on the transition between elementary school and middle school, because that's where we lose a lot of students. So our whole focus is trying to keep those particular students engaged in science, interested in it. Because they were interested just a couple of years before, and excited about science, so if we can maintain that interest, there's some hope that they'll continue on with it through high school and on into college. Q. Do you have any idea why they start losing interest at that age? In the United States, it has a lot to do with our culture. We haven't really emphasized the importance of science, and we haven't made science seem interesting and exciting and cool as careers for kids.
When I was growing up in the 1960s, our country had a strong focus on science and technology. It was the early days of the space program, and there was an enormous focus on science and engineering. Students grew up thinking that science was really cool. Engineering was really cool.
And we as a country lost that, and for the last 20 years or so have not really been putting our focus on it. And so kids don't appreciate how important it is. They don't read about it in the newspaper as important. When they turn on the television or go online, they don't really think of it as important, and they don't have a lot of role models that are very visible.
But that's changing in this country. Just in the last year or two, we've started to put much more emphasis and importance on science education. But it's going to take a while to change the culture around that. Q. In September 2010, President Obama announced "Change the Equation," a new program to promote STEM education (science, technology, engineering, and mathematics). Do you think that's a positive move? I do. I think that's very positive. President Obama has been very, very supportive of science education, and has announced several major initiatives in science and science education. It is very helpful to have the leader of the country so vocal and so visible in his support.
He has it all under the umbrella of the "Educate to Innovate" campaign, as he's calling it. And the program that he announced in September 2010 is one that I'm actually a part of, as the vice chairman. It's an effort to get corporations - private companies - to come together in support of science education. A lot of them have been very supportive over the last ten or fifteen years, and put a lot of money into science programs. But now this initiative is getting them to come together as one voice and support science education, and then try to leverage the work that they do by combining efforts, by communicating better, and also by leveraging their support with other available support. The corporations involved aren't just science education companies. It's a wide variety of companies that range from IT companies and manufacturers to companies in transportation, medicine, wholesale, etc. Sally Ride Science is one of them, too.