Q. Did the way you think about HAYABUSA change after you started making the film?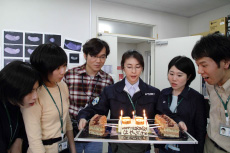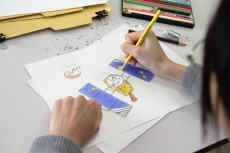 I found that the more you learned about HAYABUSA, the more you saw that it was a human experience with all kinds of episodes - light-hearted moments along with very serious and difficult times. For example, an episode we depicted in the film is when Dr. Hitoshi Kuninaka, who was in charge of the ion engines, added a diode to the circuit board to connect two engines, but didn't tell the other project team members about it. There are so many interesting parts of the story, like how the people who made the capsule that returned to Earth wrote their names on the inside of it.
I believe that HAYABUSA brought together the most brilliant minds in Japan. These project team members collaborated in an unexpected way in that they had fun while they worked, like it was an extension of their student days. Of course there was also a lot that was tough and difficult. But they did have a bit of fun together while operating HAYABUSA. This is something I got to see from reading the variety of materials on the subject and talking with the people involved. It was really fascinating. I think the key to the project's success was probably the personal charm of Dr. Yasunori Matogawa, who was the director of JAXA's Office of External Relations at the time, and Project Manager Dr. Junichiro Kawaguchi. I strongly felt that the playfulness of the HAYABUSA project group may be an example of how Japanese people should be in the future, and that it may be the way we have to organize ourselves in Japanese society. So I wanted to show those nuances in the film.
Q. What did you give particular attention to in making this film?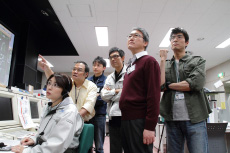 I wanted to completely reproduce what happened. First was what HAYABUSA and Itokawa looked like in space, which no one has ever seen, along with the HAYABUSA control room, which had to be just like the room used to operate the probe - including the layout, the content displayed on the computer screens, the decorations, etc. Then I wanted to replicate the clothing the scientists and staff wore, the pens they carried, the blackboards they wrote on, and all the subtle human aspects of the setting.
Since the control room is used to operate other space probes today, we had to build a replica of it for the shoot, but we reproduced it in fine detail, so I definitely want everyone at JAXA to see how we've recreated it. Q. Why did you want to completely replicate everything? Because I respect the people in the story. They've become role models. I want to pay maximum homage to the people who were involved in the HAYABUSA project.