Q. What is the center actually doing for supporting school education?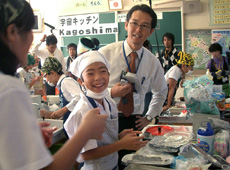 Making original space food at Space Kitchen Kagoshima
We develop teaching materials with teachers of elementary school, middle school and high-school. The key to successful classis to grab children's hearts in the first five to ten minutes. It is said that if you can grab children's heart during the introduction, your entire class will go very efficiently and effectively. So we collaborate with teachers to develop effective introduction materials on space topics, in order to help them delivering effective lessons.
By now, we have developed many materials those can be used for introduction materials of various topics not only in science but also in Japanese language classes, social studies, home economics, and art e.t.c.. And these materials have been provided to schools across the nation.
For example, for social studies class, we created introduction materials using photos of the Earth's environment, taken by the Advanced Land Observing Satellite Daichi, and made children think about global warming.
Also, in home economics classes, we let teachers use photos of space outfits, space food. One of teachers even made students make space food with locally grown produce. Such an example convinces us of the great possibilities of space education.
The center also assists local school boards with training seminars on space education for teachers across the country. Also, we work with science museums by advising about their exhibitions, providing photos of space, and dispatching scientists to give lectures there. There are many scientists, engineers and professionals for teaching in JAXA. We support them by using our rich human resources.
There are programs named Super Science High School (SSH) and Science Partnership Project (SPP), those are implemented by the Ministry of Education, Culture, Sports, Science and Technology in order to cultivate students who specialize in science, technology and mathematics. We help teachers in these programs for their lesson planning, content, and curriculum.
Also, depends on the needs of each school, the center provides support in various ways like sending experts in JAXA to their classrooms or coordinating their visiting some science facilities.